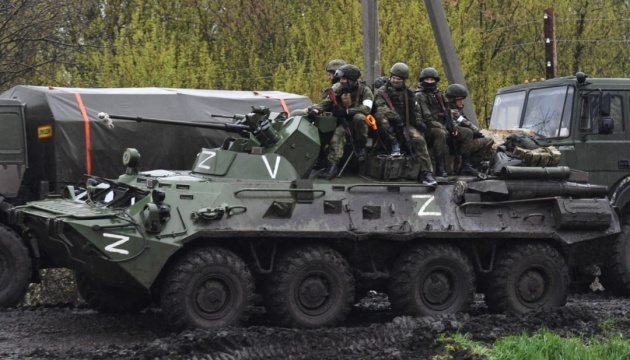 Russian invaders destroy bridges to complicate Ukraine's counter-offensive
Russian invaders destroy bridges in Kharkiv region and may resort to similar actions in Kherson region to complicate a counter-offensive of the Armed Forces of Ukraine.
"Speaking from an intelligence point of view, we foresaw this [destruction of bridges] because there is nothing new in the actions of the Russian-occupation forces. Let's recall the retreat of Russian troops from Kyiv, in Brovary direction. When they retreated, they blew up everything on their path that could be blown up. In addition, heavy mining was carried out, and the mine clearance will take much time. The most critical and important infrastructure was destroyed," Vadym Skibitsky, representative of the Chief Directorate of Intelligence of the Ministry of Defense of Ukraine said during the nationwide telethon, commenting on the complication of the Ukrainian counter-offensive in Kharkiv and Kherson due to the destruction of bridges by Russians.
He believes that such actions of the enemy really affect the counter-offensive in Kharkiv direction.
"Yes, it will have an impact, because there are powerful water barriers, and we will need to build a crossing or rebuild these bridges in order to continue the counter-offensive and reach the state border, restore our presence there, further conduct other counter-offensive actions," the representative of the Ukrainian intelligence considers.
Asked whether the occupiers may destroy bridges in Kherson region, Skibitsky said that Russia would do everything possible to stay in that territory.
"Our assessment is very simple: in general, Kherson region is a very important region for Russia, we understand that. First of all, it is a land bridge that connects Russia with the occupied Crimea and, second, it is an element of ensuring the livelihood of Crimea: it's water, it's electricity. Our nuclear power plant was seized for a reason and Russia will do everything possible to stay in this territory," Skibitsky stressed.
He did not rule out that the occupiers would try to hold a referendum in Kherson region in one form or another.
"Will it be the so-called 'Kherson People's Republic' or other forms, for example, the accession of Kherson region, part of Zaporizhzhia region to the Crimean Peninsula and the creation of a 'federal union of territories', but it's still Kremlin's plans. Everything will depend on the efficiency of our Armed Forces and the assistance from the international community," said the military intelligence representative.
As reported, on May 12, the Armed Forces of Ukraine destroyed a Russian command post in Vysokopillia, Kherson region.
ol