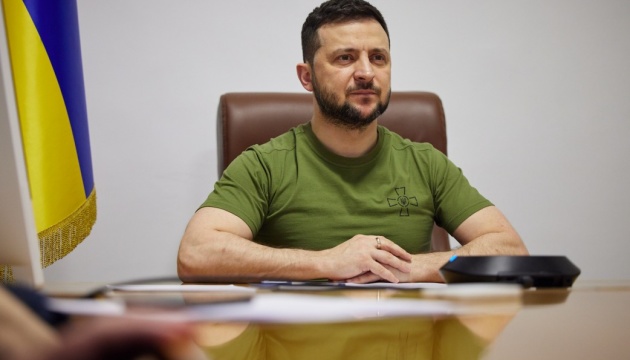 War will end when Ukraine gets everything back, says Zelensky
President Volodymyr Zelensky has stated that the war with Russia will end when Ukraine regains its territories, people, peace, freedom, and choice.
The president spoke at an online meeting with students of French universities, Ukrinform reports.
"The war will end for the Ukrainian people only when we get back what's ours. It's true. I openly say: we need nothing else… We want to return peace to our country, to our land," the president said.
He added that Ukrainians want to return their land, people, but at their own will, as well as freedom and the right to choice.
"Russia gradually took away, occupied all our rights: the right to our land, the right to choose, the right to choose, and eventually the right to live," said the president, adding that now "we are fighting for our lives and losing our lives."
Volodymyr Zelensky stressed the importance of Russia's presence at the negotiating table and, in his words, "understanding the inevitability of punishment and the great fallibility of their steps, which will and have already led to a catastrophic future of their (Russian - ed.) culture, consciousness, and state, but it was their decision."
He explained that this should be a dialogue, not an ultimatum.
"For the sake of peace in Ukraine, we are ready to talk so that it is not too late, because with every Bucha, with every Mariupol, with every such step, a city where there are dozens of burials, rape, and suffering, with every such step, opportunities and desire for diplomatic solutions to this issue are being lost," the president stressed.
On February 24, the Russian Federation launched a new phase of the war against Ukraine – a full-scale invasion, with Russian invaders shelling and bombing peaceful towns and villages in Ukraine, destroying infrastructure, torturing and killing civilians.
The last face-to-face talks between the Ukrainian and Russian delegations took place in Istanbul on March 29. The Ukrainian delegation made a number of proposals to end the war, including the signing of an international agreement on security guarantees for Ukraine.
On April 16, President Volodymyr Zelensky said that, if Russian troops eliminated Ukrainian troops defending Mariupol, it would put an end to any negotiations with Russia.