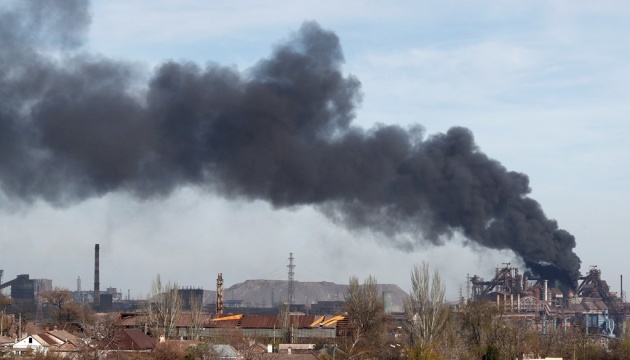 Azovstal assault: Russians carry out 34 airstrikes in one day
The Russian invaders performed 34 airstrikes, including eight sorties by strategic bombers, at the Azovstal steelworks in the besieged city of Mariupol, Donetsk region, over the past day. The enemy continues to storm the Ukrainian stronghold.
That's according to Mariupol City Council's post on Telegram, Ukrinform reports.
Over the past 24 hours, 34 airstrikes were recorded on the Azovstal steelworks, the last stronghold of the Ukrainian defenders in Mariupol, including eight sorties made by strategic bombers. The enemy continues to use artillery, MLR systems, UR-77s, tanks, etc." the statement reads.
It is noted that the enemy does not stop trying to capture the Ukrainian fortress, assaulting the area with the support of infantry.
Russia's aggression has caused one of the biggest humanitarian catastrophes in Mariupol.
On May 7, the evacuation of civilians – women, children, and the elderly, who had been sheltering at the Azovstal plant in Mariupol – was completed. However, on May 9, Donetsk Military Regional Administration head Pavlo Kyrylenko said on national television that more than 100 civilians remained at the Azovstal metallurgical plant in besieged Mariupol.
The Ukrainian military is defending the territory of the metallurgical plant, which the Russians are constantly shelling with all kinds of weapons, from time to time staging assault attempts. Several hundred wounded still remain at Azovstal. An acute shortage of medication is reported.
President Volodymyr Zelenskyy said that the Ukrainian authorities were working on diplomatic options to extract the Ukrainian military defending the Azovstal steelworks.
Soldiers of the Azov Regiment, the National Guard, the Ukrainian Marines, and motorized riflemen continue to defend Mariupol.