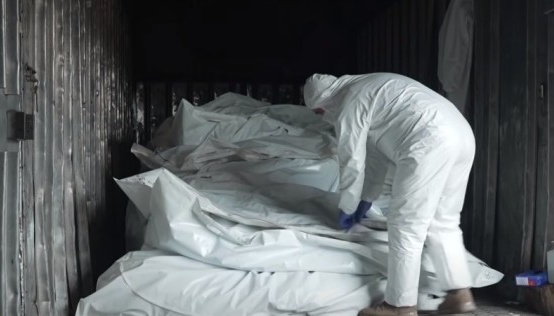 Al Jazeera shows refrigerated train filled with unclaimed bodies of Russian soldiers
Qatar's Al Jazeera English, a 24-hour English-language TV channel, has reported on refrigerated trains filled with the bodies of Russian servicemen killed during the ongoing invasion of Ukraine.
According to Ukrinform, this is stated in the Al Jazeera English report on its YouTube channel.
"The real toll of this war for Russia – unclaimed body bags stacked in refrigerated trains," says the report by Al Jazeera English.
It is noted that in one bag carrying the body of an elite Russian military serviceman, jewelry was found, allegedly stolen from Ukrainian civilians in Kyiv region.
"Ukraine treats the dead enemies better than they treated civilians. They will be kept as long as need be. The government will decide because Russia refuses to take them. It doesn't want to. Each body is proof of a war crime. So if they refuse to take them, Ukraine will bury them at our own cost," said Ukraine Army Colonel Volodymyr Liamzin.
Officially, Russia claims only 1,300 KIAs in Ukraine, while the General Staff of the Armed Forces of Ukraine says Russian death toll has exceeded 26,000.
On February 24, Russian President Vladimir Putin launched a full-scale invasion of Ukraine. Russian troops have been destroying Ukrainian infrastructure, massively shelling residential areas of Ukrainian cities and towns, using artillery, MLR systems, and ballistic missiles.
The United States, the European Union, and other democracies have imposed sanctions against the aggressor power, whose international isolation is growing by the day.