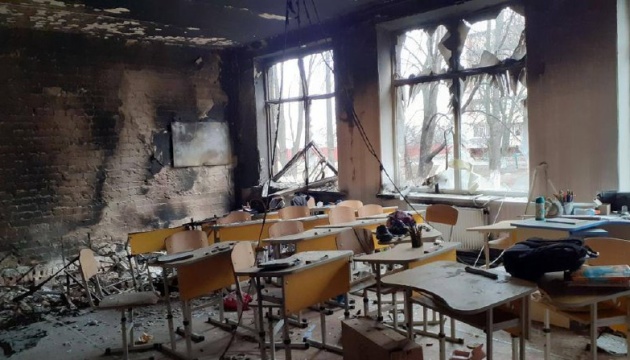 219 children killed in Ukraine due to Russian aggression
In Ukraine, 219 children have been killed as a result of Russia's full-scale aggression.
"As of the morning of April 29, more than 617 children were affected as a result of Russian aggression against Ukraine. According to official data, 219 children were killed, and more than 398 children received injuries of varying severities," the Prosecutor General's Office posted on Telegram.
These data are not final as work is underway to identify victims in areas of active hostilities, in the temporarily occupied and liberated territories.
Most children were affected in Donetsk region – 139, Kyiv region – 115, Kharkiv region – 95, Chernihiv region – 68, Kherson region – 44, Mykolaiv region – 43, Luhansk region – 37, Zaporizhzhia region – 27, Sumy region – 17, Kyiv city – 16, Zhytomyr region – 15.
In the first week of March, a car exploded on a highway near the village of Krasne, Chernihiv region, killing children aged 2 and 14.
On March 7, a 10-year-old boy got a contusion in enemy artillery shelling of Romanivka Bridge in Irpin.
On April 28, a 10-year-old girl was wounded in Russian shelling of the village of Tsyrkuny, Kharkiv region.
On April 28, five people, including a child, were wounded in the shelling of Zaporizhzhia.
On April 11, a 9-year-old boy was wounded in artillery shelling in Kharkiv.
On April 21, a 17-year-old boy was delivered to a hospital in Dnipropetrovsk region with injuries received in Russian shelling of Mariupol.
A total of 1,556 educational institutions have been damaged in daily bombings and shelling of Ukrainian towns and villages by the armed forces of the Russian Federation. In particular, 102 institutions were completely destroyed.
On February 24, Russia launched a new phase of the eight-year war against Ukraine – a full-scale offensive. The enemy massively shells and bombs peaceful Ukrainian cities, towns, and villages. The Armed Forces of Ukraine, the Territorial Defense Forces, and the entire Ukrainian people effectively resist and inflict heavy losses on Russian troops.
ol