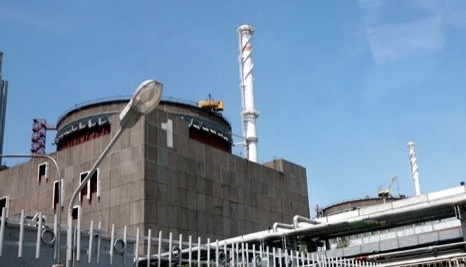 Two Russian missiles seen flying over Zaporizhia nuclear plant, threatening global disaster
Two cruise missiles launched by Russian troops have flown at low altitudes over the Zaporizhia Nuclear Power Plant in Enerhodar Tuesday morning, April 26.
That's according to the press service of Energoatom, Ukraine's state-run nuclear operator, Ukrinform reports.
"Today, at 6:41 and 6:46, two enemy cruise missiles flew at low altitude over the Zaporizhzhia NPP in the direction of the city of Zaporizhia," the statement reads.
"Later, explosions caused by Russian cruise missiles were confirmed in Zaporizhia," the statement clarified.
Russia's nuclear terrorism is on the rise, and the threat is becoming more apparent. Energoatom stressed that Russia exposed the whole world to the danger of a new nuclear catastrophe 36 years into the Chornobyl tragedy.
"The overflight of missiles at low altitude just above the ZNPP site, where seven nuclear facilities with a huge amount of nuclear material are located, poses enormous risks. After all, missiles can hit one or more nuclear facilities, which poses a threat of a nuclear and radiation catastrophe to the whole world," said Energoatom CEO Petro Kotin.
The Zaporizhia NPP is Europe's largest nuclear power plant that was captured by the Russian military on the night of March 4 and is still under enemy control. Russians keep heavy equipment and ammunition right on the premises of the nuclear plant, having literally transformed the facility into a military base, The Russians also terrorize personnel and the population of the satellite town.
As Ukrinform reported earlier, Russian missile strikes were recorded in Zaporizhia on the morning of April 26. The circumstances are being clarified.