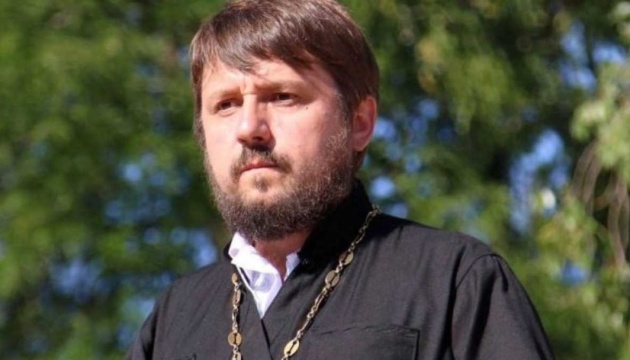 Kherson priest shares story of captivity, torture by Russian forces
The priest with the Orthodox Church of Ukraine, Serhiy Chudynovych of Kherson, said that the Russian military had been holding and torturing him, threatening to hurt his family and even rape him.
Chudynovych spoke of the atrocities in a video shared on Facebook, Ukrinform reports.
"They accused me of being part of Ukraine Army's sabotage and reconnaissance groups, accused ne of being a member of the territorial defense force. This wasn't true, of course ... So they would pull my arms back, telling me my life was over, that they would literally dismember my body, that they would kill me, shoot me. They took me to another room ... there they started beating me in the chest, where the heart is, with a truncheon," the priest said, sharing his story.
According to Chudynovych, he was water-deprived, not allowed to go to the bathroom, beaten on the legs, strangled, while his hands were tied from behind. During the interrogation, he was given vodka instead of water. The invaders also threatened to hurt his family.
Then, the priest said, they took off his jeans and briefs and threatened to rape him with a truncheon. Chudynovych said he had panicked and, when told to "cooperate," he agreed under stress.
Now that he successfully fled the occupied areas, he decided to share his account to make sure the public is aware, to what the Russians subject captured Ukrainians.
"I want everyone to hear how they (Russian aggressors - ed.) treat people, who are then used in videos, saying they were treated well and not subjected to violence," said Chudynovich.
When he was finally released, he acted as usual for about a week, while preparing his escape route out of Kherson. On April 6, the priest successfully fled the area for the territory controlled by Ukraine and immediately reported the situation to the police, making a relevant statement.
As Ukrinform reported earlier, Serhiy Chudynovych is the rector of the Kherson-based Church of the Blessed Virgin, a public figure and acclaimed volunteer.
On the morning of March 30, the occupation forces abducted the priest right from the church, which they raided, searching the premises and inspecting the content of messengers in a mobile phone.
The priest was released later the same day.