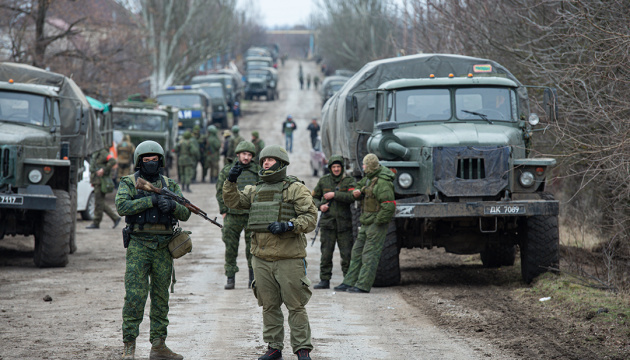 Denisova reports on tortures used against Ukrainian POWs by Russians
The Ukrainian citizens who have been released from Russian captivity through the exchange of prisoners are complaining of humiliation and inhumane confinement conditions.
The relevant statement was made by Verkhovna Rada Commissioner for Human Rights Liudmyla Denisova on the Current Time [Nastoyashcheye Vremya] TV Channel, an Ukrinform correspondent reports.
"I think all of you have seen 15 Ukrainian women who had their hair shaved off. They were stripped naked in the presence of men, who did different obscene things, humiliated them. Similarly, they treated our servicemen taken from Zmiinyi Island. They were held captive in tents without heating and food. They came here with their hands and feet frostbitten, because it was very cold at the place they were kept. They were not provided with food and, thus, the Russian Federation violated the 1949 Geneva Conventions regarding the treatment of prisoners of war," Denisova told.
In her words, POWs must be treated equally as the servicemen of the country that has taken them captive.
"But, most likely, Russia treats its soldiers in the same way it treated ours. Thus, it is no wonder," Denisova noted.
According to Denisova, keeping people in the conditions that do not meet the Geneva Conventions can be viewed as tortures.
"Recently, we have released three prisoners of war. No medical care was provided to them to reduce their suffering. This is also torture," Denisova added.
In her words, Russians take Ukrainian POWs to Bryansk, Kursk, as well as Crimea.
According to Denisova, she also visited Russian POWs in Ukraine.
"There have been no complaints of confinement conditions, tortures or anything else. Instead, the soldiers, there were 23 of them at that moment, told me Ukrainians treated them better than their Russian commanders," Denisova stressed.
A reminder that, on February 24, 2022, Russian President Vladimir Putin initiated a full-scale invasion of Ukraine, starting a war. Russian troops are shelling and destroying the key infrastructure facilities, launching missile and air strikes on Ukrainian cities and villages, torturing and murdering civilians.
mk