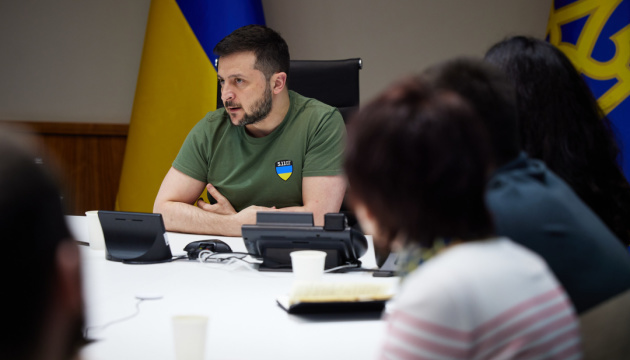 Volodymyr Zelensky's interview with Ukrainian online media: main theses
President of Ukraine Volodymyr Zelensky spoke with journalists of Ukrinform, Ukrayinska Pravda, LB.ua, LIGA.net, RBC-Ukraine and Obozrevatel.
On April 16, the President of Ukraine spoke with journalists of Ukrinform, Ukrayinska Pravda, LB.ua, LIGA.net, RBC-Ukraine and Obozrevatel. Ukrinform provides the main theses of the interview.
Authorities are in contact with defenders of Mariupol
The Ukrainian authorities at various levels are in contact with servicepersons blocked in Mariupol. Defenders of the city today are fighting the enemy, whose forces outnumber six times.
"We are in contact with our guys who stay in the blocked plant. We are in contact with them. We talk to them at different levels every day. We support them as much as we can. But they know that they are carrying out one of the most powerful and important missions today, and this is true. In fact, the enemy is afraid of them because today there are six times more Russian troops there," Zelensky said, adding that the enemy has tens times more equipment than Ukrainian defenders.
The president added that "not a very large part" of Mariupol is controlled by the Ukrainian military.
In addition, according to him, there is a humanitarian crisis in the city.There are not enough food, water, medicines.
"Nevertheless, our guys are heroically defending, we are grateful to them for that. Words of gratitude are definitely not enough, so certain plans and negotiation processes are being developed. To be honest, there is no trust in the Russian negotiators regarding Mariupol," Zelensky said.
He added that there was an agreement on a humanitarian corridor mediated by Turkey, but Russia refused "at some point."
"To be honest, there is no trust in the Russian negotiators regarding Mariupol. We agreed that there will be a humanitarian corridor, mediated by Turkey and by President Erdogan personally. We agreed that through Berdiansk, he could take away our wounded people, who are in Mariupol, and those killed and civilians, first of all, women and children. There are very young children there. And we agreed on that. Then Russia refused at some point. That is why I say that there is not much trust," Zelensky said.
Zelensky also stressed that there is no established data on the situation in Mariupol, adding "many people have gone missing."
Russia wants to repeat the Ilovaisk tragedy in Mariupol
The President of Ukraine does not rule out that Russia, by offering the defenders of Mariupol to surrender and promising to save their lives, actually wants to shoot Ukrainian soldiers, as in Ilovaisk in 2014.
"In my opinion, they have different attitude to our military. And you know that. There are military servicemen whom they hate. I don't believe they will save their lives there, even if they promised them. Yes, it may be Ilovaisk. I think so, but we need to ask our military," Zelensky added.
According to him, Russians put psychological pressure on the Ukrainian defenders and promise to save their lives in return.
"I know that they offered our people to surrender, to go into captivity. We know this through many channels. Therefore, they constantly spread this information through their people, put psychological pressure so that they to surrender and go into captivity. Then they will 'save their lives," Zelensky said.
According to the President, it is possible to help Mariupol, first of all, by providing Ukraine with highly effective weapons, which the Ukrainian government is constantly talking about to international partners. Another option is to negotiate with the Russian side if it agrees. After all, a ceasefire is needed now, at least in Mariupol, in order to take certain humanitarian steps and to take away those wounded and killed.
"Another option is to speak about this at the level of leaders. I gave my signals on this, on any format of negotiations to save our people, on any format of swap, if another party is ready," the President said.
At the same time, Zelensky stressed that the defenders of Mariupol are already heroes, so now if they make a decision for themselves, take this or that step, no one will forbid them to do so.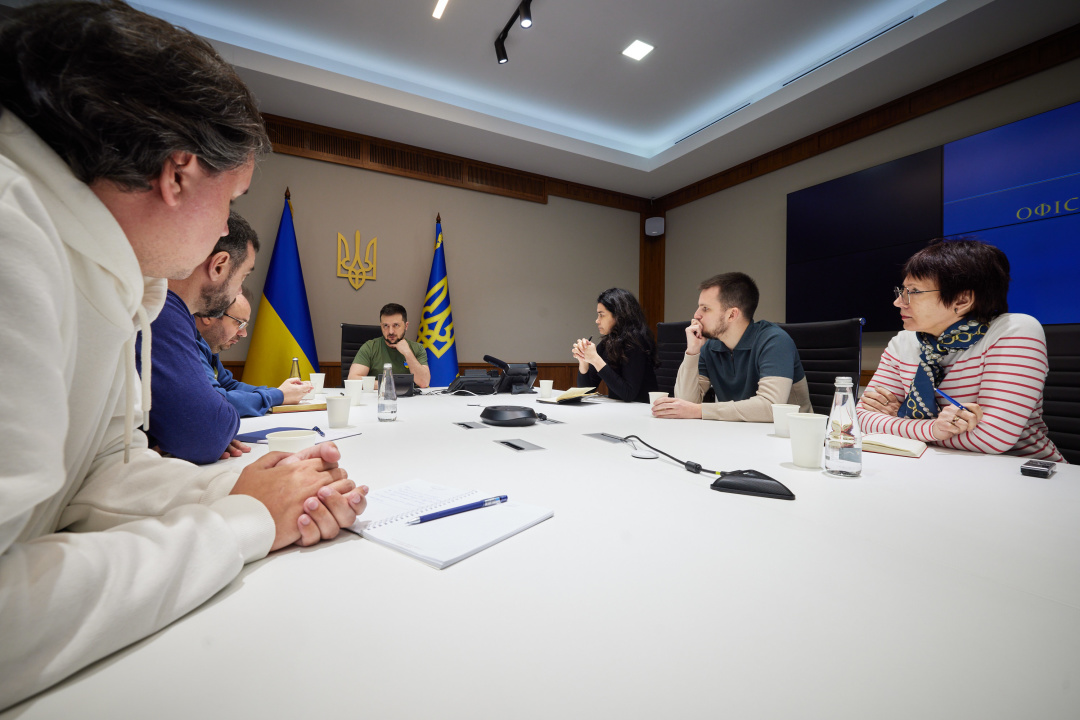 Destruction of defenders in Mariupol could put an end to any format of negotiatios
President Volodymyr Zelensky said that any format of negotiations could come to an end if Russin forces kill Ukrainian defenders of Mariupol.
"The destruction of all our guys in Mariupol - this is what they [Russians] are doing now - can put an end to any format of negotiations. I think it is their big mistake to say that they really want to end the war," Zelensky said.
He assured that the Ukrainian government does not trade territories and people, but understands that negotiations are needed to protect the state and end the war.
The President stressed that the stronger Ukraine is, the better the outcome of these talks can be. At the same time, he noted "the more Borodianka-like cases appear, the less chance there will be for negotiations."
"We have Bucha, Borodianka, etc., and we have not been to Mariupol - there may be ten times worse than in Borodianka," the head of state added.
On the change in western countries' position on arms supplies to Ukraine
As to the supply of weapons to Ukraine, Volodymyr Zelensky noted "at first, no one decided on this quickly, and then, when the people within the state, the people themselves began to put pressure on them, then they began to change the position and give us weapons or speed up these processes". According to the President, from the moment they say that they have decided on the supply of weapons to Ukraine, "from this moment to the moment when these weapons are already in our army, it can take two-three weeks. Thus, it's a very long process because Ukrainian defenders say - we need help now within one day, two-three days. And they [western countries] say - everything is fine, we will give you [weapons] in May. What do they expect? That we have to fight for months, the war [will take] years? Some of them are probably counting on it"
According to the President of Ukraine, "for us, speeding up [supplies of] weapons is a very important moment. And the rhetoric of some countries has changed for sure, it has become warmer - if such a word can be used – regarding arms supplies, it has become warmer in our direction".
Volodymyr Zelensky noted that the process of arms supply has been unblocked; "We now get weapons. But in my opinion, we get not enough weapons. Russia believes that we get lots of weapons. And it is also a good result, I think. "
"I think that the United States, Great Britain, Poland and several other countries really support us today, but they can certainly supported us much stronger. And they support honestly and openly, the Czech Republic supports, and the Slovak Republic," the President said.
Four countries are ready to become Ukraine's security guarantors
The United Kingdom, the United States, Italy and Turkey are ready to become Ukraine's guarantors, but the number of countries may grow and there is no final response from any country.
"Today, those who are showing that they are ready... we have no signatories on paper yet. There is a demonstration of readiness from Boris Johnson, from Great Britain, from the United States, from Italy, from Turkey," Zelensky said.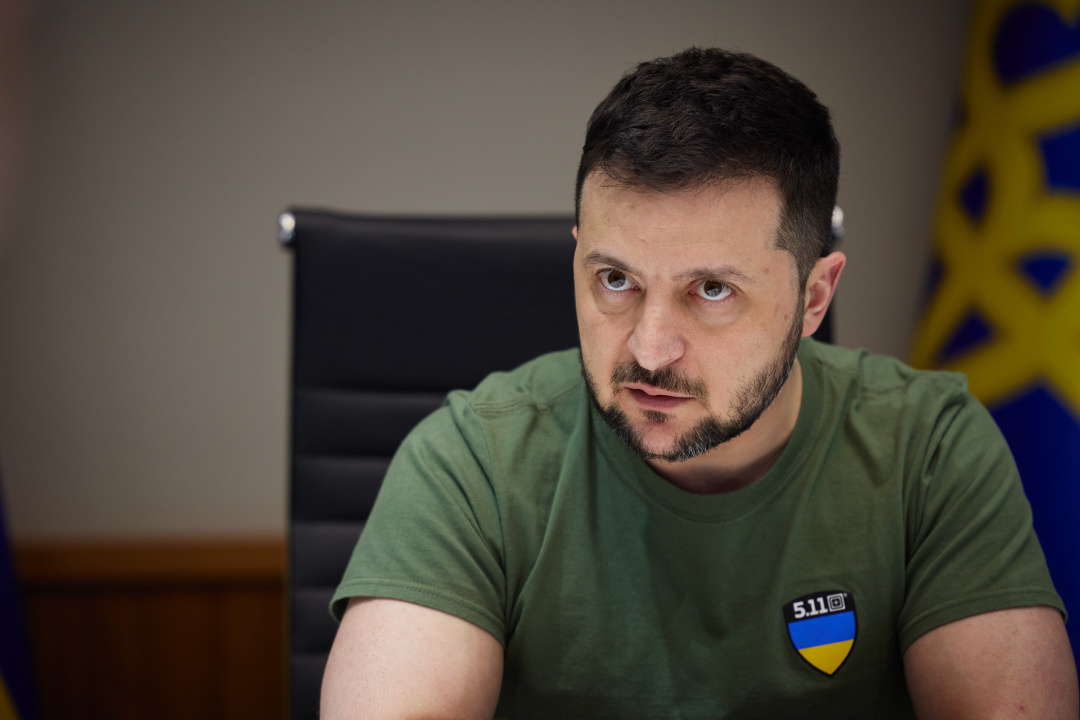 Document on the end of war may consist of two separate treaties
The final document on the end of Russia's war against Ukraine may consist of two parts - an agreement on security guarantees for Ukraine and a separate bilateral agreement between Ukraine and Russia.
"I believe that these can be two different documents - security guarantees from those countries that are ready to provide these security guarantees, and a separate document with Russia," the head of state said, when asked about the final document on the end of the war.
The President noted that Russia would like to have one agreement that would include all issues. However, according to him, not all countries that could be security guarantors want to be at one table with the Russian Federation.
"For them, security guarantees for Ukraine are one issue, and agreements with Russia are another issue. Russia wants everything to be in one document, but people say 'Sorry, we saw what happened in Bucha'. Circumstances are changing, the formats of future agreements are changing, and the percentage of possibilities of agreements is changing, following such steps, those rapes. Everyone sees this and less and less want to have any agreements with Russia, and at the same time they want to have agreements with Ukraine," Zelensky said.
He also added that the issue of Russia's compensation for Ukraine's war losses must be legally resolved, but he does not know now what kind of document it will be.
Russia wants to occupy as much territory as possible to put pressure during negotiations
President of Ukraine Volodymyr Zelensky believes that one meeting with the Russian leadership will not be enough to settle everything and agree on all the issues to establish peace.
"I support the idea of holding a meeting with Russia as soon as possible. I do not think it will be one meeting. I do not think that you can meet once and agree on everything. Because there are many issues. On some issues, I do not see yet whether they agree on our option or we agree on their option," Zelensky said.
In particular, according to him, this concerns the issue of Russian-occupied territories of Donetsk and Luhansk regions.
"They want to constantly change the status in this part, and we want some kind of agreement so that those people, who are there, who consider themselves Ukrainians, know where they live, not on an island in the middle of the land, but that it is part of a state. I believe that this is part of Ukraine, they believe that they are part of Ukraine, the militants of L/DPR believe that they are part of Russia, and Russia does not consider them part of Russia, but believes that they are separate 'republics'. They are afraid of being separate republics, because if they are separate republics, they understand that Ukraine may come to separate republics. Maybe. Russia fears that Ukraine may come, and thus it wants a neutral status so that Ukraine will never come there. Thus, there are many issues. And the most important question for me is: 'What do we all want to be there?" the President said.
At the same time, Zelensky added that the meeting is unlikely to be held until it is clear which countries are ready to become security guarantors and under what conditions, because the course of negotiations will also depend on it. He also added that diplomatic talks should take place when Russia ends the war.
"You can think of diplomacy, while they want to resolve issues diplomatically when the war is ongoing. This is very difficult. That is why they want to take some of our territory to occupy more so that to have such pressure. Well, then it is not about diplomacy. And why do we then meet? It is unclear to me why we need to meet if they want to seize the whole state," Zelensky said.
In general, he added, Ukraine is ready to hold a dialogue on many controversial issues and look for common ways.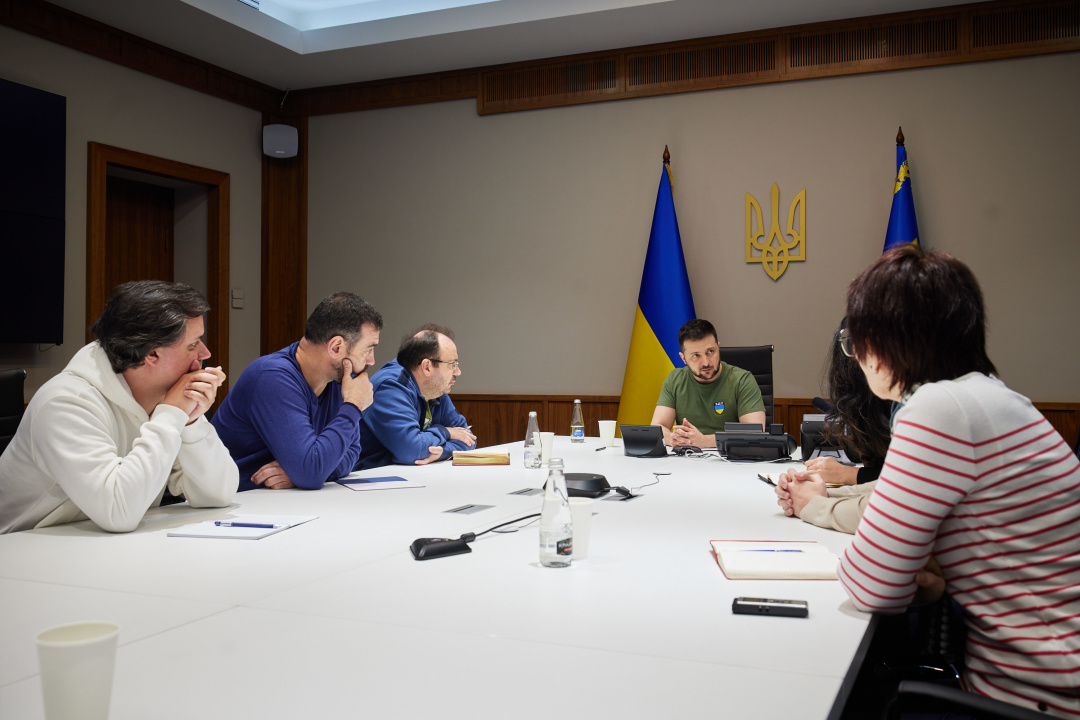 On Russia's conditions for meeting with Putin
The Russian Federation insisted that meetings between the Presidents of Ukraine and Russia could be possible only after final agreements on all points of negotiations.
"At any time during this war, we offered a meeting of leaders. They want to meet when there are already final agreements on all points. Honestly, with all due respect to all negotiators, to all negotiation processes, I cannot accept that everything is decided instead of me. They [Russians] act in such a way, they have everything prepared – then they meet and sign," Zelensky said.
On the possibility of exchanging Medvedchuk
"Look, we are ready to exchange Medvedchuk, ready, honestly. Of course, for our servicepersons or anything else Russia may offer. It seems to me that we have gave these signals publicly and not very publicly, and if they are interested, they will definitely respond," the President said.
On the role of Abramovich in the negotiating team
President Zelensky said that according to information available to him, Russian billionaire Roman Abramovich represented in the Russian negotiating delegation a party that advocates diplomacy and an end to the war. However, no one can guarantee it is true.
"I do not think that anyone on the Russian side has a neutral position. I believe that the Russian side, their diplomats or businessmen are defending the Russian side and only their interests. Our interests cannot coincide. We may be interested in resolving certain issues by non-military means, ending this war. I think that Abramovich is part of this delegation, I don't know about others, what I was told was that he represented the party that supports the diplomatic solution to this issue and the end of the war," Zelensky said.
On the absence of conflicts between President's Office representatives and Zaluzhnyi
Volodymyr Zelensky stated that the representatives of the Ukrainian President's Office have no conflicts with Commander-in-Chief of the Armed Forces of Ukraine Valerii Zaluzhnyi, now everyone works in one team, and everything opposite are fakes.
"Thank God, everyone who has been here since day one and everyone who has stayed, everyone is working," Zelensky said, noting that he knows who is spreading false information about alleged conflicts.
The head of state said that during the first days of the Russian full-scale invasion, he gathered many people and called on them to unite for victory. He suggested forgetting all misunderstandings and working together as one team.
On Ukraine's economy decline as a result of the war
"There are two questions. The first question: minus seven billion euros of our economy every month. Minus seven billion is all salaries, payments, everything from the budget. Salaries, pension payments, social support. We now have a deficit of seven billion euros. It is a difficult situation, you see it. These figures are known to [our partners]. By the way, we will be able to see at the end of the month how certain partners support us. Everyone knows these figures: the European Union, the United States, Great Britain, our people and so on. I think we will get out of this situation."
According to Zelensky, all Ukrainian institutions that should work now must work. "I think that people will return and work, and the economic situation will be better."
The President noted "there are agreements with the IMF, and several programs are being developed for this assistance. But you must understand that if this war continues, it will exhaust us. It is so. Therefore, there are some grants, there is assistance, there are several different programs".
Ukrainian people in occupied territories are not collaborators
According to the President of Ukraine,"… the question is: how to work and live in the occupied territories… They are not collaborators, we understand. We are all people, and I understand what difficulties may be. For example, a math teacher is told: 'I understand that you taught children in Ukrainian. And now you need to teach mathematics in Russian…' I think that the main thing for our people is to survive there, the main thing is to remember that they are all citizens of our state. We will definitely liberate these or those occupied cities. I think that is the most important thing".
On the possible returning of Ukrainians home from abroad and Kyiv residents to the capital
Volodymyr Zelensky believes that there is not exact answer. "Why? Can the Russians return [to the positions that are now liberated from the occupiers]? They can. However, is it necessary for the city to work? 100%. I think that seven billion, sorry, I'm very pragmatic, but that seven billion is nothing for our state, basically nothing. If people work, we will not ask anyone [for help]. We don't need anything, you know. Being humiliated and ask for money or another amounts. But for this, the country should work and live, despite the ongoing war. You have to get used to it. Get used to the idea that you should not wait for the moment when there will be no shots. It can be different. We all want that, but it can be different. That's why we need to work. If you work, you can spend money the way you want, it's your right. But, nevertheless, the economy must start operating. Without it, there will be no money for our army. And this is the main thing. Our servicepersons have high salaries. And where to get this money? The economy must work. They, these or those partners, will help us for a month, or maybe for two months they will help - it will not be forever. That's why we need to work. That's the answer regarding the returning".
Ukrinform
Photo credit: President's Office