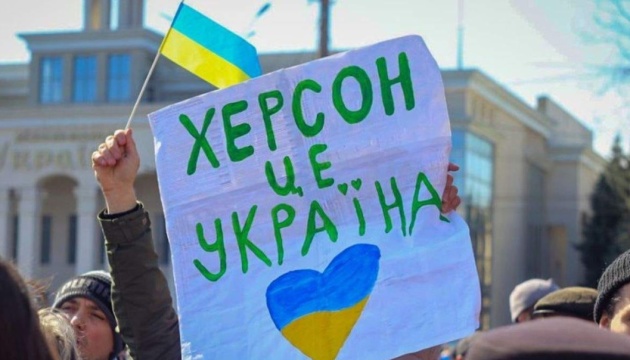 Russians preparing to hold 'referendum' in Kherson Region on May 1-10
Russian invaders are planning to hold the so-called 'referendum' in Kherson Region between May 1, 2022 and May 10, 2022.
The relevant statement was made by Verkhovna Rada Commissioner for Human Rights Liudmyla Denisova on Facebook, an Ukrinform correspondent reports.
"According to the data from witnesses, 'ballots' are printed out at the printing office in Nova Kakhovka to hold the so-called 'referendum'. Obviously, all the 'voting' result protocols will be prepared in advance and delivered to the regional center. The pseudo-referendum is expected to take place between May 1, 2022 and May 10, 2022. During this period, they intend to close the entrance to and the exit from Kherson and disconnect all communications," Denisova wrote.
In her words, Russian occupiers used the same pseudo-referendum scheme in Luhansk and Donetsk in 2014. Instead of the expression of the will of the people, they simply created an image required for the Russian television.
"It will be difficult for Russian invaders to hold the so-called 'referendum', as Kherson Region's heroic residents continue to take to the streets to join rallies against the Russian occupation with the slogan 'Kherson is Ukraine!', although rashists use weapons and force to disperse such rallies," Denisova noted.
Denisova also appealed to the UN Commission for Investigation into Human Rights Violations during Russia's Military Invasion of Ukraine to take into account these war crimes and crimes against human rights, which are committed by the Russian Federation in Ukraine.
A reminder that, in Kherson Region, Russian invaders are blocking humanitarian corridors intended for the supply of food and medicines and evacuation purposes, abducting local activists, heads of communities and deputies.
mk