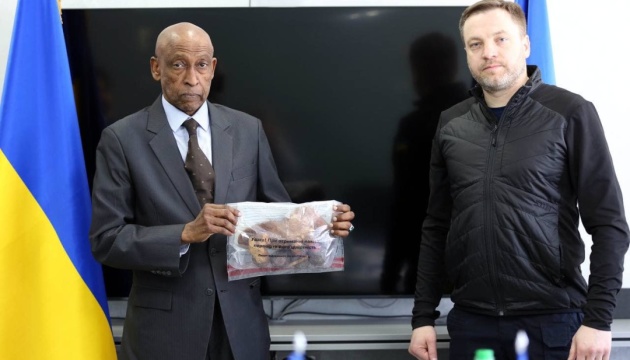 Monastyrskyy hands over bloodied toy from Kramatorsk railway station to UN mission
Minister of Internal Affairs of Ukraine Denys Monastyrskyy handed over a bloodied children's toy from the Kramatorsk railway station to the UN mission.
"Let this toy become a symbol of the grief of Ukrainian mothers and remind you of the fate of our children who are killed cynically and massively by Russia," Monastyskyy said, the Ministry's press service posted on Facebook.
On Thursday, the 50th day of Russia's full-scale war against Ukraine, Monastyrskyy held a meeting with UN Crisis Coordinator for Ukraine Amin Awad and told him that the Ukrainian people continued to heroically resist the Russian aggressor's offensive.
"Since the beginning of the war, investigators of the National Police of Ukraine have launched an investigation into more than 6,000 proceedings over crimes committed by the Russian military. As a result of the Russian aggression in the territory of Ukraine, more than 190 children have been killed and about 350 children have been injured," the minister said.
Monastyrskyy underscored that on the morning of April 8 Russian troops had fired a Tochka-U missile marked "For Children" on the Kramatorsk railway station with about 4,000 civilians, mostly women, children, and the elderly waiting for the evacuation train.
"It was a deliberate, purposeful, planned attack on civilians. This crime of the Russian Federation took the lives of 59 civilians, including 7 children. In addition, 114 people were injured to varying degrees. A bloodied soft toy was found among the bodies of the wounded and killed," the Ukrainian minister said.
A picture of this horse was published in many world media and has become a symbol of the destroyed fate of Ukrainian children.
It is noted that the bloodied toy will be delivered to the Independent International Commission of Inquiry on Ukraine as yet another piece of evidence of cynical war crimes against humanity committed by the Russian occupation forces in our country.
Police removed the toy from the scene, kept it in the condition it was after the tragedy, and then took it to Kyiv.
"The strike on Kramatorsk must be one of the charges brought against Russia at the tribunal which will undoubtedly take place," the Ministry stressed.
Russia's invasion of Ukraine has been going on since February 24. Russia shells and destroys key infrastructure, residential areas of Ukrainian cities, towns, and villages using artillery, MLRS, and ballistic missiles.
Photo credit: Ministry of Internal Affairs of Ukraine, Facebook
ol