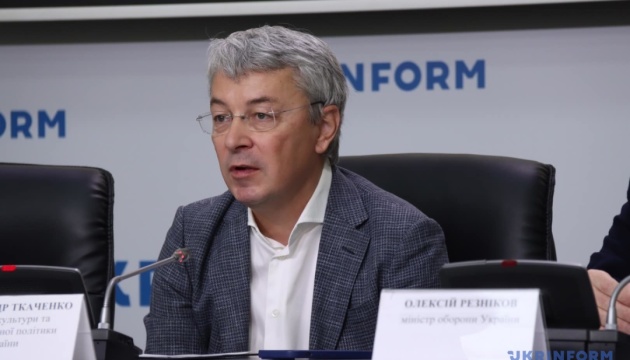 Enemy forces destroyed or damaged 166 cultural sites in Ukraine
The Ministry of Culture and Information Policy has already recorded 166 cultural sites destroyed or damaged in Ukraine as a result of Russian attacks.
Minister of Culture and Information Policy Oleksandr Tkachenko said this during a nationwide telethon on Ukrainian TV channels, Ukrinform reports.
"We are keeping official records on the ministry's website. There are already 166 cultural heritage sites that were destroyed or damaged in the Russian invasion. We don't know about some of the objects yet, because they are located in the occupied territories. There is evidence, we are verifying these data, and it is obvious that we are talking about reparations and restoration by the aggressor state," Tkachenko stressed.
At the same time, he said that the ministry is currently negotiating with western partners to establish a joint fund to restore Ukrainian cultural heritage.
"Yesterday, for example, I spoke with the French minister of culture. We discussed the need for creating a joint fund of our countries, countries that support us, which would be engaged in renewing and restoring cultural heritage in Ukraine after the victory. This is a matter of extreme importance, because the first thing Putin is fighting against, if we are not talking about people, is against culture, against our history. Moreover, in their speeches, they openly say that culture is the only tool through which they can win in the world with the agenda of the so-called 'Russian world," the minister said.
According to Tkachenko, the ministry is calling on the world to impose sanctions and end cooperation with the Russian cultural community.
"To date, more than 100 institutions in the world have refused such cooperation. Instead, it is important for us to promote our own [culture]. That is why we are very active in supporting all private initiatives, the Virsky ensemble, which went on tour, and the nationwide telethon dedicated to supporting Ukraine. And many other cultural initiatives that are taking place in Europe now," Tkachenko said.
On February 24, Russian President Vladimir Putin announced the beginning of a full-scale invasion of Ukraine. Russian troops have been shelling and destroying key infrastructure facilities, conducting massive shelling of residential areas of Ukrainian cities and villages using artillery, multiple rocket launchers and ballistic missiles.
iy