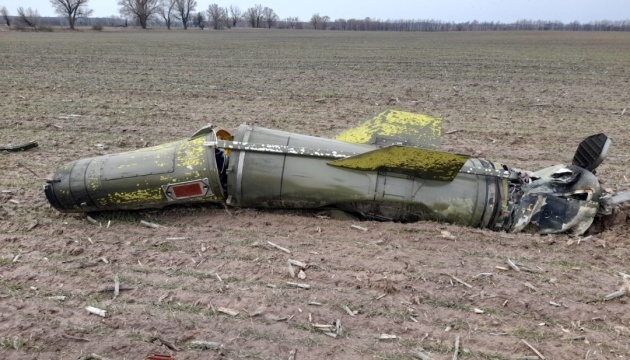 Tochka-U missile launched by Russia from Belarus shot down in Chernihiv region
A Russian Tochka-U missile launched by Russian invaders from Belarus has been shot down in the Chernihiv region.
That's according to the Facebook page of a defender of Chernihiv, Ukrinform reports.
"These are the remains of a Tochka-U in the Chernihiv region. It fell. Not on its own. It was launched from Belarus territory. And it could have exploded over us. And today rockets flew to the [train] station in Kramatorsk, Donetsk region. Fifty civilians, including children, were killed and more than a hundred injured. This is the same tragedy as in Bucha and Irpin outside Kyiv, as in Lukashivka and Yahidne near Chernihiv, as in Mariupol and other towns and villages," the military wrote on Friday, commenting on a photo of the downed missile.
On Friday, April 8, Russian troops fired missiles at the Kramatorsk train station. Thirty-eight people died on the spot, and 12 more, including five children, died in hospitals. Some 98 people injured in the attack are now in hospitals.
Ukrainian President Volodymyr Zelensky said that the Kramatorsk train station had been hit with Tochka-U missiles.