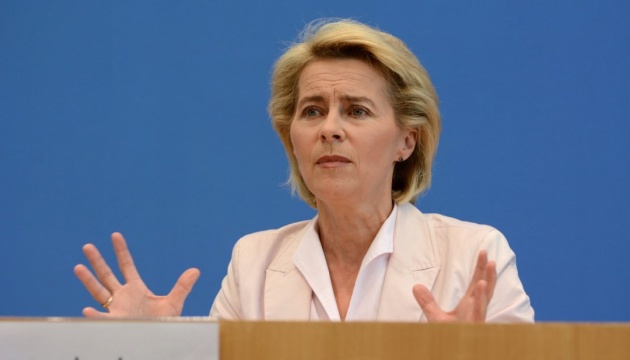 Von der Leyen handed over questionnaire for EU candidate country status to Zelensky
President of the European Commission Ursula von der Leyen has handed over a questionnaire for the EU candidate country status to the President of Ukraine Volodymyr Zelensky.
She handed over the document to the Ukrainian president at a joint briefing in Kyiv on April 8, an Ukrinform correspondent reported.
She also noted that it would not as usual be a matter of years to form this opinion on membership, but "a matter of weeks."
As Ukrinform reported, Deputy Head of the President's Office Ihor Zhovkva stated that the technical process of considering Ukraine's application for EU membership had begun, and the EU would soon send a questionnaire to Ukraine concerning almost all areas.
On March 10, the EU summit was held in France to discuss strengthening European defense and reducing dependence on Russian gas, oil and coal. EU leaders were unanimous in supporting Ukraine in the war against Russia and acknowledged Kyiv's European aspirations.