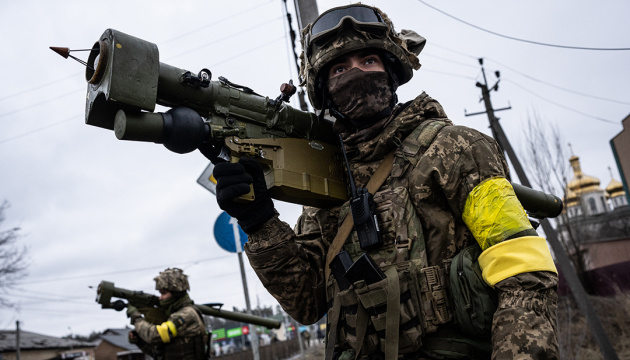 Ukraine regains control of over 20 settlements
The Armed Forces of Ukraine have restored control over more than 20 settlements.
This was announced on Facebook by the General Staff of the Armed Forces of Ukraine, Ukrinform reports.
According to General Staff, the Russian occupying forces are regrouping and are likely to focus on an offensive operation in the Eastern Operational Zone.
There is a partial withdrawal of units of the Russian occupying forces from the Polissya and Siversky directions. At the same time, the enemy is preparing to move additional units (reserves) of the Eastern Military District to conduct hostilities on the territory of Ukraine.
In the Volyn direction, units of the Armed Forces of the Republic of Belarus are taking measures to strengthen the protection of the Belarusian-Ukrainian border.
The Russian enemy did not carry out offensive operations in the Polissya direction. The main efforts of the Russian occupiers are aimed at defending the previously occupied borders, regrouping and withdrawing troops to the territory of the Republic of Belarus to restore combat capability. To ensure the withdrawal of its units, the Russian enemy mines the terrain and infrastructure, and fires artillery.
Units of the Armed Forces of Ukraine restored control over the settlements of Demydiv, Dymer, Lytvynivka, Gavrylivka, Kozarovychi, Zhovtneve, Hlybivka, Yasnohorodka, Talakun, Sukoluchchya, Lypivka, Gavronshchyna, Makovyshche, Mykolaivka, Khmilna.
In the northern direction, the Russian enemy continues to blockade the city of Chernihiv. At the same time, there is a movement of troops of the Central Military District to areas located at a short distance from the state border of Ukraine.
After the departure of the enemy, the Armed Forces of Ukraine took control of the settlements of Rudnya, Shevchenkove, Bobryk, Stara Basan, Nova Basan, Makiyivka, Pohreby, Bazhanivka, Volodymyrivka, Shnyakivka, Salne, Sofiyivka, and Havrylivka.
In the Slobozhansky direction, the enemy continues to blockade Kharkiv and carry out artillery shelling of the city. Additional delivery of ammunition for artillery units is recorded.
In the Izyum direction, the Russian enemy continues to control Izyum and hold pontoon crossings across the Siversky Donets River in order to ensure offensive operations. During the day, the enemy fought in the direction of the settlement of Mala Komyshuvakha, stopped, without success.
It is likely that the Russian enemy will strengthen the grouping of occupation troops in the Izyum direction at the expense of separate units of the 1st Tank and 20th All-Army.
In the Donetsk direction, the Russian enemy continues to carry out fire and assault operations in some areas and conduct airstrikes on settlements.
The main efforts are focused on taking control of the settlements of Popasna and Rubizhne, as well as establishing full control over the city of Mariupol.