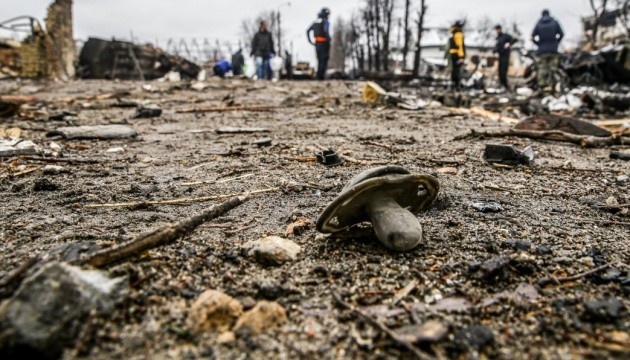 Russia kills 153 children in Ukraine
Since the beginning of Russia's large-scale armed invasion of Ukraine, 153 children have been killed and at least 245 have been injured in hostilities.
"Almost 400 children have been affected in Ukraine since the beginning of the armed aggression of the Russian Federation. Of these, 153 were killed and more than 245 were injured," the Prosecutor General's Office posted on Telegram, Ukrinform reports.
As noted, most children were affected in Kyiv region – 73, Donetsk region – 65, Kharkiv region – 53, Chernihiv region – 43, Mykolayiv region – 30, Luhansk region – 31, Zaporizhzhia region – 22, Kherson region – 29, Sumy region – 16, Zhytomyr region – 15, Kyiv city – 16.
Data on killed and injured children in Mariupol and in some areas of Kyiv, Chernihiv, and Luhansk regions are being established.
It is reported that a 2-year-old girl from Lysychansk, Luhansk region, died on March 31 from severe injuries. She and her 7-year-old brother were seriously injured the day before.
On the same day, five minors were hospitalized in Donetsk region after they had been injured in the shelling.
According to the Prosecutor General's Office, Russian bombings and shelling damaged 859 educational establishments in Ukraine. In particular, 83 establishments were completely destroyed. The worst situation is in Donetsk, Kharkiv, Mykolayiv, Sumy, Kyiv, Kherson, Zhytomyr, Chernihiv regions and Kyiv city.
On February 24, Russian president Vladimir Putin started a full-scale invasion of Ukraine. Russian troops shell and destroy key infrastructure, massively fire on residential areas of Ukrainian cities, towns, and villages using artillery, MLRS, and ballistic missiles.
Martial law was imposed in Ukraine and general mobilization was announced.
ol