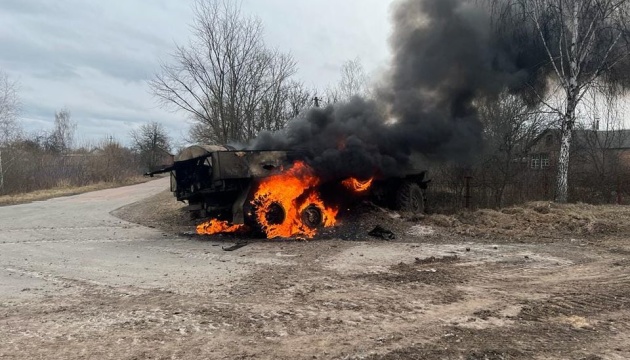 Ukrainian Army closing in on Chernihiv
The Ukrainian forces have liberated from the Russian invaders the village of Sloboda, Chernihiv region, just 22 kilometers from the regional center.
War journalist Andriy Tsaplienko reported the news on his Telegram channel, Ukrinform reports.
"Ukrainian troops knocked Russian occupiers out of the village of Sloboda, Chernihiv region. Our soldiers just sent me the video. I am proud to be friends with these heroic people. They say people cried and hugged them as the Ukrainian Army entered the village. That's where I was wounded," wrote Tsaplienko.
As Ukrinform reported earlier, a large convoy of Russians came under Ukrainian attack in Chernihiv region yesterday. Thirteen units of enemy equipment were destroyed or damaged.
Chernihiv remains almost besieged by the Russian forces, who have been shelling and bombarding the city for weeks, while failing to break its defenses.
Humanitarian aid to the city, as well as the evacuation routes out of it, have been massively complicated after the Russians blew up a bridge on the motorway leading to Kyiv.