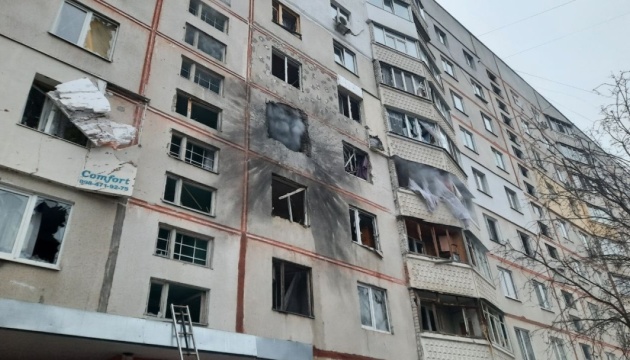 Invaders destroy 1,177 apartment blocks in Kharkiv - mayor
In Kharkiv, as a result of Russian shelling and air strikes, 1,177 apartment blocks have already been destroyed.
This was announced at a briefing by Kharkiv Mayor Ihor Terekhov on Monday, an Ukrinform correspondent reports.
"The Russian army, the aggressor's army is purposefully - I emphasize - purposefully, firing on residential neighborhoods. These are not just individual households, but entire neighborhoods. Residents are under total bombardment. To date, 1,410 objects have been destroyed in the city, of which 1,177 are multi-storey apartment blocks," Terekhov said.
According to the mayor, 53 kindergartens, 69 schools, and 15 hospitals were destroyed as well.
This is the result of Russia's aggression. At the same time, we are now forced to relocate people to schools, kindergartens, basements, and subway stations," said the mayor.
He added that volunteers, risking their lives, deliver food to storage facilities in areas where shelling never stops.
Utility services are also working under fire, in particular, 104 garbage trucks operated on March 28.
According to Terekhov, there are supermarkets operating in the city, and all basic necessities are available. Kharkiv is also receiving humanitarian aid from other cities, as well as from abroad, including from the United States: the city of Chicago has sent $880,000 worth of medications, which have been distributed to city clinics and a military hospital.
The mayor also stressed that the spirit of unity and struggle prevails in Kharkiv as residents have radically changed their attitude to the aggressor power.
"The city of Kharkiv is mostly a Russian-speaking city. Before the war started, almost one in four was in contact with relatives, acquaintances, and many friends in Russia. And the city of Kharkiv has always been considered more or less loyal to Russia. Today the attitude to Russia, the aggressor, the aggressor's troops has changed dramatically. I communicate with people every day. People could never have imagined in their worst nightmare that Russia would attack Ukraine, attack the city of Kharkiv. Today, each of us is ready to defend the city to the end. Kharkiv is united. We have an extraordinary spirit – the spirit of resistance, the spirit of fight, and the spirit of victory," said the mayor.
As Ukrinform reported earlier, Kharkiv has been shelled daily since the start of the full-scale war. According to the regional military administration, last night Russian troops fired about 59 artillery and mortar shells on the Kharkiv districts of Saltivka, Oleksiyivka, and Pyatyhatky, as well as on Chuhuiv and Derhachi in Kharkiv region. Also the region came under fore ot MLR systems nearly 180 times, including the Smerch-type, proscribed by international treaties. Fierce battles with the invaders continue in Izium.