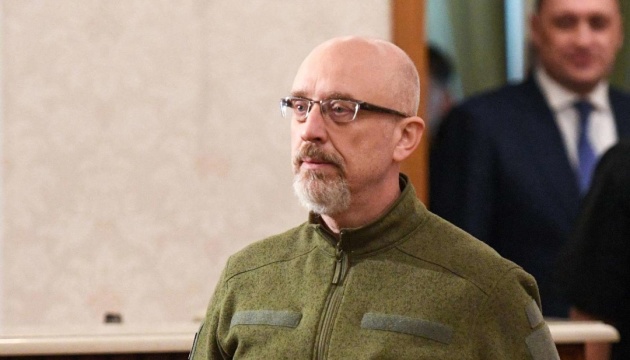 Ukrainian Army moving to proactive defense – minister
Defense Minister Oleksiy Reznikov states that the Ukrainian army has withstood the initial blow, keeps repelling the enemy, and is now moving to proactive defense.
The minister made the statement via Facebook on March 24, Ukrinform reports.
This period of the war, which began with Russia's attack on Crimea more than eight years ago, will go down in history as 'invincibility month.' The Ukrainian Army and Ukrainian people have withstood the blow that could have broken many. But not us. I'd like to express my sheer gratitude to all defenders, male and female, all citizens who have been working in their place for our country to live on," Reznikov emphasized.
According to the minister, throughout this time, Ukrainians have proved to themselves and the world that Ukraine is above all for them and that "we will not allow anyone to take away from us the state the generations of Ukrainians dreamed of, fought for, died, were deported to Siberia or Solovki."
"Throughout this month, we've seen many symbols of invincibility. Heroic Mariupol, indestructible Kharkiv, brave Chernihiv, and many other cities and villages have shown that Russian occupiers will not reign over our land. In Sumy, Hostomel, Volnovakha, Okhtyrka, Makariv, Konotop, Mykolaiv, Brovary, Izium, and several times in Chornobayivka, the uninvited guests were taught what the difference was between being in Ukraine and being buried in Ukraine. Kherson, where unarmed civilians stand up against the occupiers, proves that no one called Russian soldiers there. The latter are war criminals from a terrorist state who broke in by force," Reznikov emphasized.
According to the minister, throughout this month the invaders have killed more than 120 Ukrainian children: "Thousands and thousands of young Ukrainians have lost their parents, home, and lived through the things that we'll never forgive the enemy."
"The atrocities of Russian murderers and looters are gradually being recognized even by those who for years have turned a blind eye to the Kremlin regime. They are raping, looting, and destroying everything they cannot steal. We will avenge the grief of all Ukrainian cities and villages that are temporarily occupied by the enemy. For Trostianets, for Melitopol, for Shchastia, for Stanytsia Luhanska. In Kreminna, Luhansk region, these monsters drove their tank up to a nursing home and shot it at point-blank, killing 56. This isn't an unintentional hit or 'engaging a target by coordinates', this is a deliberate killing of the defenseless, a war crime. Therefore this is not an army, this is a gang of terrorists, criminals, and cowards," Reznikov said.
Ukrainian soldiers have already downed more than 100 Russian warplanes and more than 125 helicopters, more than 520 tanks and more than 1,500 armored vehicles. The enemy's losses, including those killed, wounded, captured, and missing, already amount to over 40,000. The number of deserters is increasing, too.
"We still have a very difficult period ahead of us. The Russian military machine will not stop until it is drowned in the blood of its soldiers, Russian society is already experiencing some consequences, but it is intimidated and passive. It is difficult to find the words to assess the depth of this moral degradation. Therefore, our only way is to "withstand the onslaught of Mordor" - through pain, fear, and loss, through all trials. We just can't allow these inhumane beings to determine our future and rule in our home. We will drive them out. We will rebuild everything. We will clean our land of the fallout of this war. It will take a lot of effort and time," Reznikov said.
He stated that the Ukrainian Army has survived and is strengthening its reserve, holding back the enemy and moving to active defense. International support is gradually increasing.
"The main thing now is for the economy, which is gradually being put on the military rails, to work. That's for the life support systems to work, for the logistics to operate. There are difficulties that we are not going to hide and see as a challenge to tackle. As long as we're united, we will overcome anything. Glory to Ukraine," Reznikov emphasized.