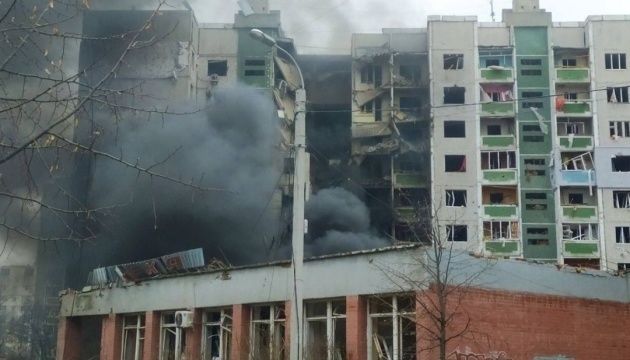 Chernihiv mayor: Russians intentionally target hospitals with fire
In the city of Chernihiv, Russian invaders are intentionally destroying civilians and infrastructure facilities and targeting hospitals with fire.
The relevant statement was made by Chernihiv Mayor Vladyslav Atroshenko in an interview with Censor.net, an Ukrinform correspondent reports.
"The Russian military are targeting hospitals with fire. Is a hospital a military infrastructure facility too? It is important to understand what methods are used by Russia when conducting hostilities in Chernihiv. Their tactics is to intentionally destroy civilians and infrastructure facilities. It has nothing to do with the targeted fire on military infrastructure facilities," Atroshenko told.
In his words, the death toll among civilians rapidly increased during the Russian invasion. Now there are 40 funerals per day taking place in Chernihiv.
"We have two base hospitals in the city with about 200 wounded in each of them. We bury about 40 people per day. Prior to the war, we buried an average of eight people per day. According to my estimates, about 50% of local residents left the city. Another 50% are staying, but, unfortunately, many people among those who are staying cannot take care of themselves," Atroshenko noted.
A reminder that, due to Russian bombardments, Chernihiv has been left without water, gas, heat and electricity services.
mk