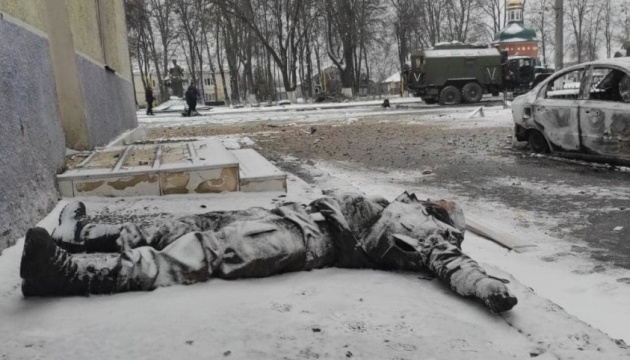 More than 2,500 bodies of Russian servicemen shipped to Russia from Gomel, Belarus - media
Many wounded Russian servicemen are being treated in hospitals in Belarus's Gomel region, while the bodies of those killed in action are being shipped to Russia by rail and air.
This was reported by Radiyo Svaboda, Ukrinform reports.
An employee of the Gomel Regional Clinical Hospital told the newspaper that as of late last week, more than 2,500 corpses had been taken from Belarus to Russia by rail and air.
"We were admitted with a domestic injury to the Mozyr hospital. There are so many wounded Russians there – just awful. Terribly mutilated. Their moans are all over the hospital, it's impossible to listen to that," locals say.
Another source from among the medics told the newspaper that "about a hundred Russians underwent surgery in Mozyr on Sunday alone." "On Monday, even more were admitted. All doctors, including therapists and otolaryngologists, are involved in their treatment and surgeries. Local are still receiving medical assistance, but problems may arise to this end quite soon," the source said.
Meanwhile, a full-fledged field hospital has been set up in Narovlya. "There are many military tents on the premises of a former motor depot. There is also a field kitchen and a laundry facility. It is hardly possible to count the wounded, but there are clearly hundreds," said city residents.
Apparently, the wounded are now being brought not only by PAZ buses with a red cross, but also by helicopters. "The wounded don't stay long there. They get 'patched up' here and taken to Mozyr and Gomel. Corpses are shipped by rail from Mozyr to Russia," city residents report.
Another source from Narovlya notes that their district center is being transformed into a kind of a military town, where locals are not allowed there. "Now we have a lot of equipment and military deployed there. They stay at various sites that haven't been used. At a former district sawmill, equipment is being repaired after being damaged in battles in Ukraine," the interlocutor told the outlet.