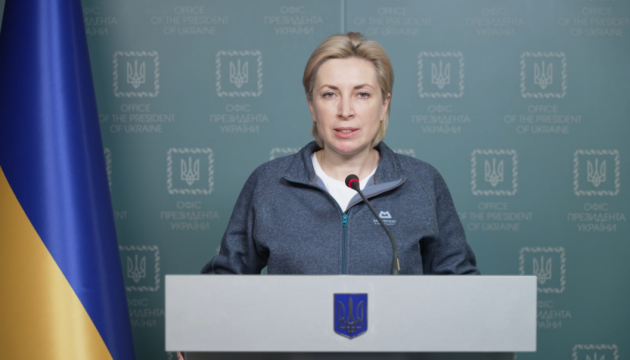 Ukraine gets no response from ICRC on humanitarian corridors on March 16 - Vice PM
Ukraine has received no response from the International Committee of the Red Cross on humanitarian corridors for the evacuation of civilians on March 16.
The issue of setting up such corridors remains unresolved for Izium and Mariupol, said Iryna Vereshchuk, Vice Prime Minister, Minister for Reintegration of the Temporarily Occupied Territories of Ukraine, who spoke at a briefing on Wednesday, an Ukrinform correspondent reports.
"We haven't received a response to our proposals filed with the International Committee of the Red Cross yesterday to open humanitarian corridors today. The issue of setting up humanitarian corridors for Izium and Mariupol remains open today," Vereshchuk said.
She stressed that in the last few days as the humanitarian corridors were open, Russia resorted to gross violations of ceasefire agreements.
"The occupiers opened fire on humanitarian convoys, shelled settlements and meeting points for civilians seeking to flee the warzone, as well as taking hostages persons providing escort for the convoys. One of our rescuers, Oleksiy Danchenko, is still being held captive," the official said.
Vereshchuk also reminded that on March 15, Russian invaders seized the premises of an intensive care hospital in Mariupol, taking hostage 400 civilian hospital staff. They are currently using the hospital as a firing point. This poses a huge threat to the movement of civilians along humanitarian corridors.
"In such conditions, we cannot safely take people out," Vereshchuk said.
As reported, as of March 14, almost 150,000 people have used humanitarian corridors across Ukraine, having evacuated to safe locations.
On February 24, Russian President Vladimir Putin launched a massive invasion of Ukraine. Russian troops have been shelling and destroying key infrastructure and residential areas of Ukrainian cities and towns, using artillery, multiple rocket launchers, and ballistic missiles.