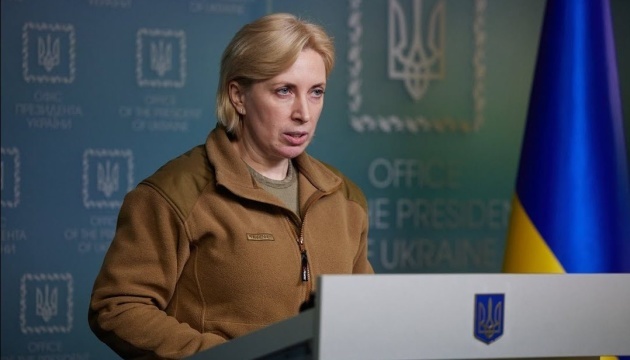 Vereshchuk to international community: Please see and hear, what is happening in Mariupol
Russian troops continue to hold about 400 people hostage at Mariupol Regional Intensive Care Hospital.
The relevant statement was made by Ukrainian Deputy Prime Minister, Temporary Occupied Territories Reintegration Minister Iryna Vereshchuk at a briefing, an Ukrinform correspondent reports.
"Another terrorist act of Russia against the Ukrainian people… Today the occupiers have gathered about 400 people in the premises of Mariupol Regional Intensive Care Hospital… and are holding them hostage," Vereshchuk told.
She called on the international community to focus efforts on the release of hostages.
"Please see and hear, what is happening in Mariupol. Russia is a terrorist state, and we request that you admit this," Vereshchuk stressed.
In her words, on March 15, 2022, about 20,000 people were evacuated through humanitarian corridors from Mariupol. More than 4,000 private cars drove towards Zaporizhzhia via Berdiansk, Manhush and other settlements, and 570 of them had already arrived in Zaporizhzhia. The rest stayed overnight in Berdiansk and other settlements.
A reminder that, on February 24, 2022, Russian President Vladimir Putin initiated a full-scale invasion of Ukraine. Russian troops are shelling and destroying the key infrastructure facilities, launching missile and air strikes on residential areas in Ukrainian cities and villages, killing civilians in Ukraine.
mk