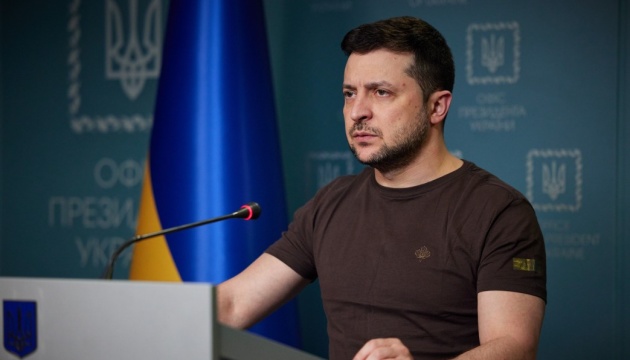 Zelensky: While invaders are on our soil, we must beat them as best we can
President Volodymyr Zelensky has called on Ukrainian people to beat and chase away the Russian invaders, defend every inch of Ukrainian land, and support each other.
The statement came in his latest video address to the nation, according to UkrInform.
"Now that the invaders are still on our soil, we must beat them as best we can. Chase them away as best we can. Defend the cities. Defend the villages. Defend every meter of our land and every part of our heart. Ukrainian heart. Ukrainian soul. Help each other! Support each other! Keep up the defense! Defend the state!" urged the president
He noted that Russian troops continue to destroy Ukraine's infrastructure, attack our cities in the regions of Kyiv, Chernihiv, Sumy, Kharkiv, in the south and east.
At the same time, the head of state expressed conviction that the Ukrainians will manage to rebuild their country.
"We will rebuild everything. Every street of every city. Every house, every apartment of every Ukrainian. After the war, I'm sure we can do it quickly. We will put all our energies into it, all the help of the world. We are already forming funds for Ukraine to live," Zelenskyy assured.
As reported, on February 24, Russian President Vladimir Putin announced the start of the Ukraine invasion. Russian troops have been bombing and destroying key infrastructure and massively shelling residential areas in Ukrainian cities and villages, using artillery, multiple rocket launchers, and ballistic missiles.