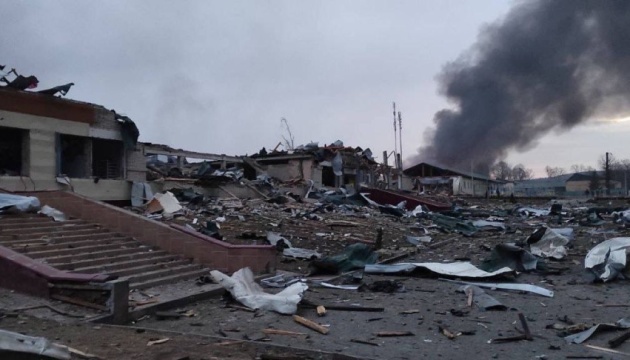 Update on Yavoriv air strike: 35 dead, 134 wounded
As a result of yesterday's bombing of the International Center for Peacekeeping and Security in Lviv region, 35 people were killed and 134 were injured.
That's according to the latest update by the Lviv Regional Military Administration, Ukrinform reports.
"By 12:00, almost all fires on the premises of the International Center have been put out, bomb squads and other experts are inspecting the area, clearing it of debris.
"Unfortunately, we lost more heroes: 35 people were killed in the air strike on the Peacekeeping and Security Center. Another 134, with injuries of varying degrees, are now in hospitals," the statement said.
As Ukrinform reported earlier, Russian warplanes launched nearly 30 missiles at the Yavoriv training ground in Lviv region overnight Sunday, March 13. The missiles were launched as the warplanes were flying over the Black Sea, it is believed.
The training ground is located just 20 km from the border with Poland, a NATO ally.