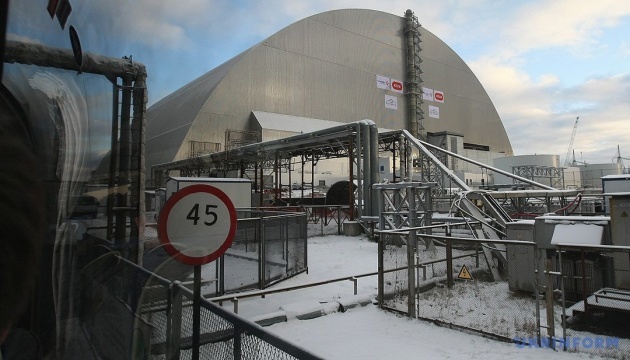 Putin plotting terror attack at Chornobyl NPP - intelligence
Russian President Vladimir Putin is planning to carry out a terrorist attack at the Chornobyl Nuclear Power Plant that has fallen under the control of the invading forces.
That's according to the Main Intelligence Directorate of the Ministry of Defense, Ukrinform reports, referring to the agency's Facebook page.
The available intelligence says Putin has ordered that his troops prepare a terror attack at the Chornobyl NPP. At the Russian-controlled Chernobyl NPP, they intend to cause a man-made catastrophe, for which the Russian invaders will try to blame Ukraine.
"Currently, the Chornobyl NPP remains completely disconnected from the monitoring systems run by the International Atomic Energy Agency (IAEA). The station has been de-energized. The resource of diesel generators available is designed for 48 hours of safety systems' support," the statement reads.
The Ministry of Defense notes that the enemy refuses to provide a Ukrainian repair team access to the NPP. Instead, "Belarusian specialists" went there on the instructions of Alexander Lukashenko. Among them, posing as nuclear power experts, Russian saboteurs are also arriving to set up a terror attack.
At the same time, in recent days, Putin's troops have struck at the Zaporizhia NPP and Kharkiv Institute of Physics and Technology, which is home to the experimental nuclear reactor.
"In order to imitate the involvement of the Ukrainian military in the Chornobyl accident, the occupiers are trying to create fake 'evidence' to back their version. In particular, Russian automobile refrigerators have been spotted, collecting the bodies of the fallen Ukrainian defenders near the Antonov Airport in Hostomel. There is a possibility that they will be portrayed as saboteurs killed at the Chornobyl zone," the Ministry of Defense said.
That is, without receiving the desired result from the ground military operation and direct talks, Putin is ready to resort to nuclear blackmail of the international community for the sake of concessions as regards support for Ukraine, the GUR stressed.
"Currently, Ukraine, the world, and Russia itself understand that the statements claiming Ukraine's involvement in posing a nuclear threat are just a talentless scenario. Nevertheless, such actions by Putin will have catastrophic implications for the whole world. It seems that this is exactly what the Russian dictator is counting on, demanding unacceptable concessions," the GUR said.
As Ukrinform reported earlier, Foreign Minister Dmytro Kuleba at a meeting with IAEA Director General Rafael Grossi on March 10 insisted on Russia's immediate withdrawal of troops from the Chornobyl and Zaporizhia nuclear power plants to prevent a nuclear catastrophe in Europe.
Chornobyl was captured by Russian troops on February 24. ZNPP has been under the control of the Russian army since March 4.