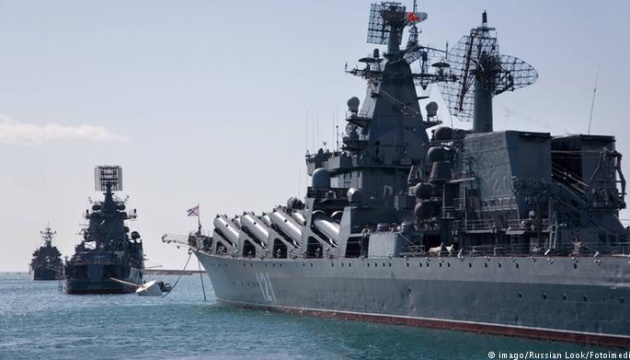 Cruise missile strikes expected from Black Sea, Azov operational zones - General Staff
Civilian and military targets are to be struck with cruise missiles from ships of the Russian Black Sea Fleet and the Caspian Flotilla from the Black Sea and Azov operational zones, the General Staff of the Armed Forces of Ukraine has said on Facebook.
As of 24:00 on March 8, the enemy reduced the pace of the offensive operation, using mainly missile and bomb strikes on civilian infrastructure, the statement said.
The enemy continues to focus its main efforts on the encirclement and capture of Kyiv, Sumy, Kharkiv, Mariupol, Mykolaiv, Chernihiv, the creation of a land corridor between the temporarily occupied territory of Crimea and mainland Russia, with access to the administrative borders of the Luhansk and Donetsk regions.
According to available information, the Russian invaders are considering organizing the effective provision of their own troops with fuel through the use of the existing stationary network of filling stations and oil storage facilities.
Also, the enemy plans to create a network of field pipelines in the temporarily occupied territory of Ukraine, with the possibility of connecting them to the central oil pipeline and pumping fuel from Belarus.
During the hostilities in Ukraine, the Russian invaders continue to suffer significant losses. According to available information, the 14th Separate Guards Special Purpose (Spetsnaz) Brigade (Khabarovsk) lost more than 400 servicemen (data being specified) whereas the battalion tactical group of the 25th Separate Motor Rifle Brigade (Luga) of the 6th Combined Arms Army was withdrawn to Russia due to loss of combat capability.
In the Polissia area, the enemy continues to hold the previously occupied positions and captured settlements of Borodianka, Kopyliv, Bucha, and Demydiv.
In the Siversky direction, the Russian invaders are attempting to take control of Chernihiv.
In the Slobozhansky direction, the enemy is attempting to block Kharkiv from the north, but did not have much success, at the same time launching missile and bomb strikes on civilian infrastructure in order to intimidate the civilian population.
In the Donetsk direction, the enemy continues offensive operations towards Dnipro and Zaporizhia in order to reach the administrative borders of the Donetsk and Luhansk regions. Having carried out an unsuccessful offensive near Troitske, the enemy tries to resume the offensive in the direction of Zaporizhia and capture the city of Mariupol.
In the Tavriya and Southern directions, the enemy's 17 battalion tactical groups hold the settlements of Kherson, Enerhodar, and Vasylivka, and regroup their forces for a further offensive towards Zaporizhia.