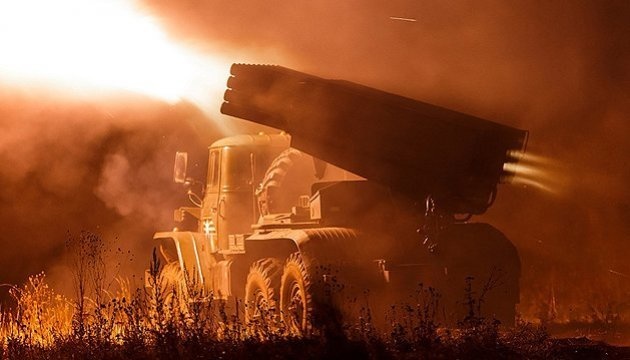 Russian invaders shell humanitarian convoy delivering aid for Mariupol with Grad systems
The humanitarian convoy delivering aid for the city of Mariupol has come under fire from Russia's Grad multiple rocket launcher systems.
The relevant statement was made by Advisor to Mariupol Mayor Petro Andriushchenko on his Facebook page, an Ukrinform correspondent reports.
"We have come under targeted fire from Russia's Grad systems. All of us are alive; goods have not been damaged. Delivering goods to a safe parking," Andriushchenko noted.
In his words, the Red Cross office has been also bombarded today, and this does not seem to be a coincidence.
"The destination of the humanitarian convoy has been kept secret intentionally. Thus, the occupiers logically assumed it would go to the Red Cross warehouses," Andriushchenko wrote.
In his words, there is a big team, from the head of Donetsk Regional Military Administration to people who attempt to deliver goods bypassing the Russian occupiers, working to provide the city with humanitarian aid.
"Unfortunately, our damaged infrastructure makes transportation complicated. But we are not losing hope," Andriushchenko added.
A reminder that Ukraine's humanitarian convoy has been shelled by Russian invaders for three days in a row.
According to Ukrainian Deputy Prime Minister, Minister for Reintegration of the Temporarily Occupied Territories Iryna Vereshchuk, on March 9, 2022, the Ukrainian side will again request that Russian invaders open a humanitarian corridor between Mariupol and Zaporizhzhia. Ukraine is attempting to deliver 90 tonnes of humanitarian aid to Mariupol residents, including water, drugs and food products.
mk