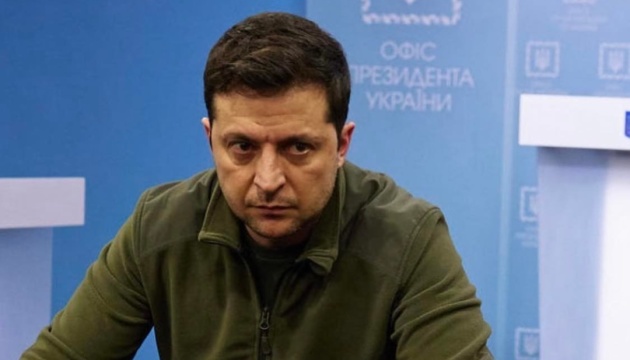 Zelensky calls on Russia to get ready to pay reparations and contributions
In his address to the Russian Federation, President of Ukraine Volodymyr Zelensky called on Russians to learn the words 'reparations' and 'contributions'. He stressed that Russia would reimburse Ukraine for everything that was destroyed during the war.
"We will restore every house, every street, every city. We tell Russia: learn the words 'reparations' and 'contributions'. You will repay us everything. Everything you did against our state, against every Ukrainian. In full. And we will not forget those who died. We. And God. You came to destroy our cities, to destroy our people, to deprive us of everything. Everything that is so dear to us," the President of Ukraine said in his video address, an Ukrinform correspondent reports.
Zelensky also compared Russia's aggression against Ukraine to a virus and said that the work of enemy's missile systems was the result of enemy's difficult psychological complexes, its delusion of persecution and delusion of grandeur.
"Exactly two years ago, the first COVID-19 case was recorded in Ukraine. The first weeks of the struggle, we remember, were very difficult, but we were united, and therefore strong, and so we withstood. Exactly one week ago, Ukraine was attacked by another virus, another disease and those suffering from severe annexation and occupation of foreign lands. One week ago, at 04:00, Russia invaded Ukraine, our independent Ukraine, our land. Acute attacks of aggression, delusion of grandeur, delusion of persecution, severe psychological complexes and, as a result, missile systems," Zelensky stressed.
He noted that Russian missile artillery, tanks and other armored vehicles were rushing like locusts.
According to the President, the first hours and days of a full-scale war were really very difficult.
"But we were united, and therefore strong, and therefore, we withstood and will continue to stand firm," the Head of State assured.
As reported, on February 24, Russian president Vladimir Putin declared war on Ukraine and launched a large-scale invasion.
Russian troops are killing civilians, shelling and destroying key infrastructure facilities, and missiles hit Ukrainians' homes.
Martial law was imposed in Ukraine and general mobilization was announced. The Armed Forces of Ukraine, with the support of the entire nation, courageously resist the Russian aggression.
Ukraine filed a lawsuit against the Russian Federation at the UN International Court of Justice in The Hague. International Criminal Court Prosecutor Karim Khan commenced an investigation into the situation in Ukraine.
Thirty-nine countries requested the International Criminal Court to investigate Russia's war crimes in Ukraine.
ol