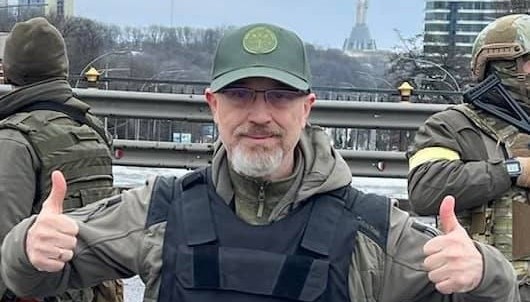 Number of Russian military hardware destroyed by Ukrainians would be enough to arm several countries' armies - Reznikov
The Ukrainian Army has destroyed so much Russian military hardware that it would be possible to arm several countries' armies. Meanwhile, the capabilities of the Ukrainian Armed Forces are growing.
This was stated by Defense Minister Oleksiy Reznikov in his address to the nation, Ukrinform reports.
"Our army has already destroyed thousands of invaders and so much enemy equipment that it would be possible to arm several countries' armies. The capabilities of our Armed Forces are growing, help is coming. Territorial defense warriors performed brilliantly in many areas. Our air aces have already become legends. Paratroopers, infantry, and artillery – all prove that Ukrainians are the best," said the Minister.
He stressed that for 168 hours, Ukraine has been repelling Russian occupiers.
"No one. Just think about this. No one. Neither in Russia nor in the West, no one believed we would last a week.
The only ones who believed were you and me. By February 24, two-thirds of Ukrainians were convinced that in the event of a full-scale Russian invasion, we would survive. Today there's almost 90% of them," Reznikov said.
According to him, this is the result of heroism shown by Ukrainian defenders, professional performance of commanders, and dedication of each Ukrainian.
"Our doctors, rescuers, utility workers, railway workers, journalists, and financiers are fighting on their respective front. The country has not stopped and is fighting," the Defense Minister stressed.
The minister especially noted the heads of the military civilian administrations and mayors who are at the forefront today and stressed that Chernihiv, Sumy, Konotop, Kharkiv, Mariupol, Kherson, and Mykolaiv are the outposts of Europe.
As reported, on February 24, Russian President Putin declared war on Ukraine and launched a large-scale invasion. Russian troops are killing civilians, shelling and destroying key infrastructure, while missiles are hitting Ukrainians' homes.
Martial law was imposed in Ukraine and general mobilization was declared. The Armed Forces of Ukraine, with the support of the entire nation, are courageously repelling Russian aggression.
Ukraine has officially filed a lawsuit against the Russian Federation with the UN International Criminal Court in The Hague. ICC Prosecutor Karim Khan has launched an investigation into the situation in Ukraine.
Thirty-eight countries have jointly appealed to the International Criminal Court to investigate Russia's war crimes in Ukraine.