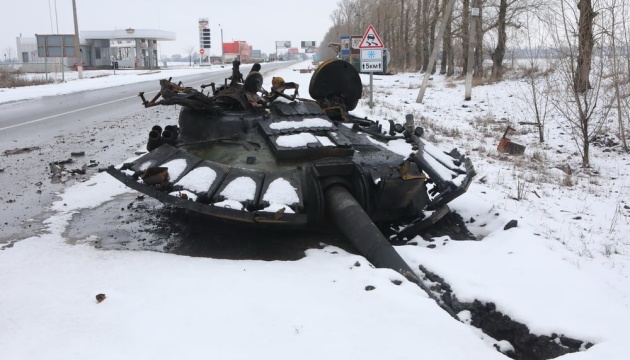 Russian army has lost more than 5,700 troops since beginning of Ukraine invasion
The losses of Russian troops since the invasion of Ukraine amounted to 5,710 people, 200 prisoners, 29 aircraft and 29 helicopters, seven air defense systems, 24 MLRS and hundreds of units of military equipment.
The General Staff of the Armed Forces of Ukraine reported this on Facebook, Ukrinform reports.
"The total estimated losses of the enemy from 24.02 to 01.03 as of 06:00 amounted to 5,710 personnel and 200 prisoners," the statement said.
The Ukrainian army also destroyed and damaged 29 planes, 29 helicopters, 198 tanks, 846 armored fighting vehicles, 77 artillery systems, and 305 vehicles.
In addition, Russia also lost seven air defense systems, 24 MLRS, 60 fuel tanks, three operational-tactical UAVs and two boats.
At the same time, the General Staff explained that the data are being clarified, as the calculation is complicated by the high intensity of hostilities.
As Ukrinform reported earlier, on February 24, Russian President Vladimir Putin announced the beginning of the invasion of Ukraine. Russian troops are shelling and destroying key infrastructure, with missiles hitting residential homes.
Martial law was imposed in Ukraine and general mobilization was announced.