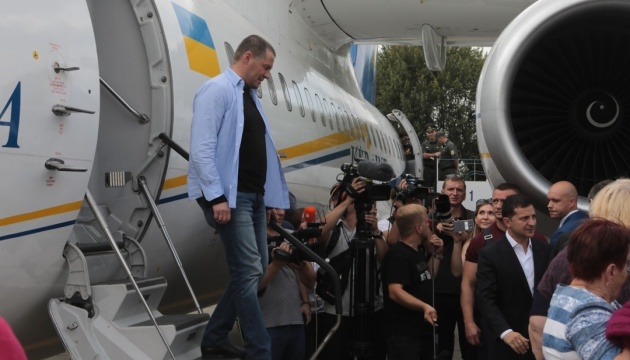 OSCE Media Freedom Representative welcomes release of Sushchenko and Sentsov
The OSCE Representative on Freedom of the Media, Harlem Désir, has welcomed the release of Ukrainian film director Oleg Sentsov and Ukrinform correspondent Roman Sushchenko as a result of the exchange of prisoners between Russia and Ukraine.
The OSCE representative stated this in a statement following the prisoner exchange held on September 7.
"I welcome the release of Oleg Sentsov, Roman Sushchenko and Kirill Vyshinsky in Kyiv and Moscow. I called for their release and intervened on their behalf numerous times with the Russian and Ukrainian authorities. I am relieved by their release after such a long detention," Désir said.
He thanked the authorities of both countries for their effort in achieving the significant release of political prisoners. "I call for the release of all detained journalists in the OSCE region," he noted.
Désir recalled the OSCE Ministerial Council Decision on Safety of Journalists, which urges the "immediate and unconditional release of all journalists who have been arbitrarily arrested or detained, taken hostage or who have become victims of enforced disappearance" in participating States. He reiterated his call for the release of Stanislav Aseev, a blogger and contributor to the Ukrainian Service of Radio Free Europe/Radio Liberty, who was detained by the so-called "DPR" forces at the beginning of June 2017 in Donetsk and remains in custody since then.
As Ukrinform reported, on Saturday, September 7, Ukraine and Russia held an exchange of prisoners in the 35 for 35 format. Eleven Ukrainians illegally convicted in Russia and 24 sailors detained near the Kerch Strait in late November 2018 returned home.
ish