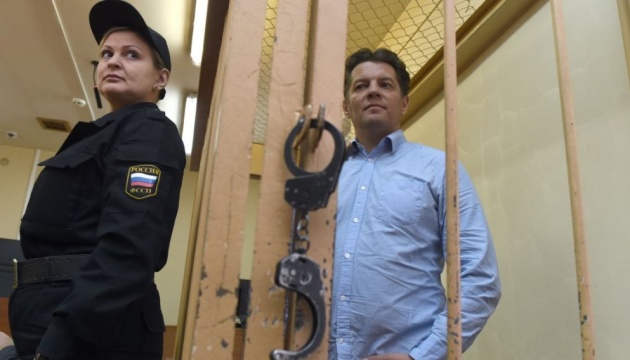 Sushchenko signs documents on consent to serve his sentence in Ukraine
Ukrinform correspondent Roman Sushchenko, who is illegally imprisoned in Russia, has signed the documents on consent to serve his sentence in Ukraine.
"During the conversation with Roman Sushchenko, the latest one by telephone and the earlier face-to-face meeting, we discussed the prospects for exchange and release. I can say that in summer Roman signed the documents, given on the initiative of the Russian side, on the consent to serve his sentence in Ukraine. However, we should not overrate this fact. These papers can stay in folders long enough, waiting for their time. The plans of the Russian side are unknown to us," Sushchenko's lawyer, Mark Feygin, said in a commentary to an Ukrinform correspondent.
Negotiations on a possible exchange are "frozen" now, the lawyer added. "In particular, it is not entirely clear who is responsible for the process from the Ukrainian side, what is the strategy for the release of Ukrainian political prisoners held in Russia. But this situation has quite objective reasons. Ukraine is now undergoing a natural process of government reformatting after the elections. I hope that situation will change by autumn," Feygin said.
Ukrinform's Paris-based correspondent Roman Sushchenko was illegally detained on September 30, 2016 in Moscow, where he arrived on a private trip. On October 7, 2016, he was charged with "espionage." Russia's FSB claimed that Sushchenko is a member of the Main Intelligence Directorate of the Ukrainian Defense Ministry. The latter denied this allegation.
On June 4, 2018, the Moscow City Court sentenced Sushchenko to 12 years in a high-security penal colony. The Supreme Court of Russia upheld the verdict on September 12.
On November 7, 2018, the Russian Federal Penitentiary Service (FSIN) informed Ukraine's Embassy in Moscow that Sushchenko had been transferred to Penal Colony No. 11 of the FSIN directorate in Kirov region (the town of Kirovo-Chepetsk, the village of Utrobino).
ol