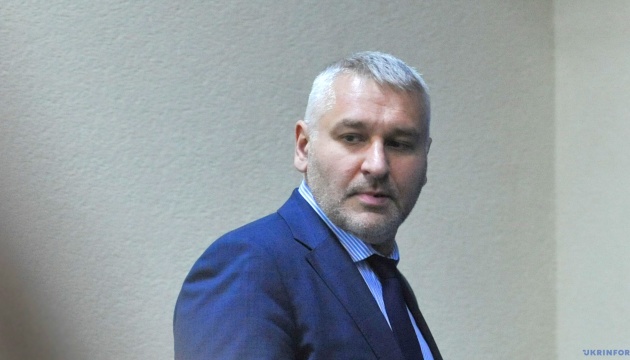 Feygin sees promising prospects for Sushchenko's release
The agreement on the release of Ukrinform journalist Roman Sushchenko, unlawfully imprisoned in Russia, can be reached only at the top political level, Russian human rights activist and lawyer Mark Feygin has told Ukrinform.
Feygin held a telephone conversation with Sushchenko on Thursday, July 18.
"Regarding the prospects. There are signs according to which we can suppose that something is happening at the highest level regarding the possibilities of certain agreements about Roman's fate. We don't know all the details, but we see such signs. And Roman is also aware of this," Feygin said.
He expressed hope that the resumed negotiation process in the Normandy format, in particular regarding the exchange and release by the Russian side of Ukrainian political hostages and prisoners of war, would have positive results.
Following a phone call with Sushchenko, Feygin confirmed that he had managed to positively resolve the issue of leaving the detained journalist in a so-called safe place in the penal colony for a further three months (from August 5).
"This, so to say, is a prison in a prison. That is, he is constantly in an isolated place. He is comfortable there. He is deprived of compulsory labor. But he draws," Feygin said.
He noted that Sushchenko is in high spirits. The human rights defender said he planned to visit Sushchenko in the coming weeks.
Ukrinform's Paris-based correspondent Roman Sushchenko was illegally detained on September 30, 2016, in Moscow, where he arrived on a private trip. On October 7, 2016, he was charged with "espionage." Russia's FSB said that Sushchenko is a member of the Main Intelligence Directorate of the Ukrainian Defense Ministry. The latter denied this allegation.
On June 4, 2018, the Moscow City Court sentenced Sushchenko to 12 years in a high-security penal colony. The Supreme Court of Russia upheld the verdict on September 12.
On November 7, the Russian Federal Penitentiary Service (FSIN) informed Ukraine's Embassy in Moscow that Sushchenko had been transferred to Penal Colony No. 11 of the FSIN directorate for the Kirov region (the town of Kirovo-Chepetsk, the village of Utrobino).
Sushchenko stays in a so-called safe place in the colony so as to avoid possible conflicts and incidents with other prisoners.
op