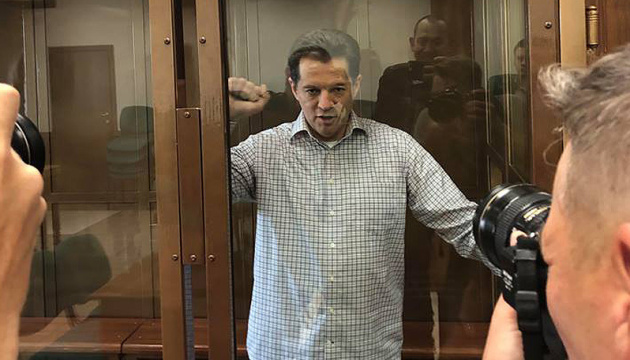 Ukrinform launches Twitterstorm in support of Roman Sushchenko
A Twitterstorm demanding the release of Ukrinform journalist Roman Sushchenko, illegally convicted in Russia, begins on Tuesday, May 28, PEN Ukraine has reported on its Facebook page.
"Today, at 10:00 New York time, or 17:00 Kyiv time, a Twitterstorm is being launched in support of and demanding the release of Ukrinform journalist Roman Sushchenko who spends his 970th day behind bars in a Russian prison, having been illegally convicted on politically motivated charges," the report reads.
PEN Ukraine called on all those who have Twitter accounts to join in: "When we are many our voice will be heard!"
According to the report, people can write any text they find appropriate, but they need to make sure they use the hashtag #FreeSushchenko.
"Pay attention to the spelling 'shch,' so that all messages are under this one hashtag," PEN Ukraine said.
On Tuesday, May 28, the Ukrainian Institute of America in New York will host an exhibition of Roman Sushchenko's drawings and an event dedicated to the illegally imprisoned Ukrainian journalist and other prisoners of the Kremlin.
Ukrinform's Paris-based correspondent Roman Sushchenko was illegally detained on September 30, 2016 in Moscow, where he arrived on a private trip. On October 7, 2016, he was charged with "espionage." Russia's FSB claimed that Sushchenko is a member of the Main Intelligence Directorate of the Ukrainian Defense Ministry. The latter denied this allegation.
On June 4, 2018, the Moscow City Court sentenced Sushchenko to 12 years in a high-security penal colony. The Supreme Court of Russia upheld the verdict on September 12.
On November 7, the Russian Federal Penitentiary Service (FSIN) informed Ukraine's Embassy in Moscow that Sushchenko had been transferred to Penal Colony No. 11 of the FSIN directorate for the Kirov region (the town of Kirovo-Chepetsk, the village of Utrobino).
op