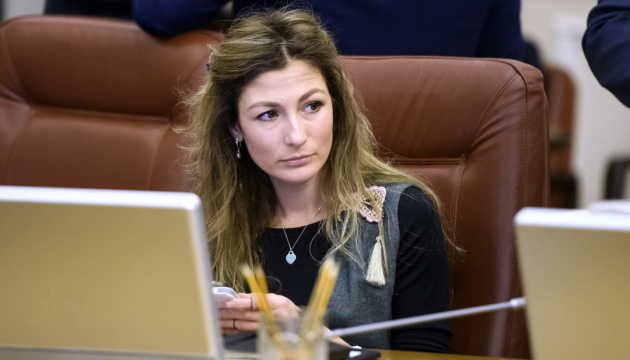 Sushchenko, Semena nominated for UNESCO Press Freedom Prize
The Ministry of Information Policy and the Ministry of Foreign Affairs have nominated Ukrinform's foreign correspondent in France Roman Sushchenko and Ukrainian journalist Mykola Semena, illegally convicted in Russian-occupied Crimea, for the UNESCO/Guillermo Cano World Press Freedom Prize.
First Deputy Minister of Information Policy Emine Dzhaparova said this during the presentation of the English version of the book by Semena titled "Crimean Report," an Ukrinform correspondent said.
"Together with the Ministry of Foreign Affairs, we have nominated Mykola Semena and Roman Sushchenko for the UNESCO Press Freedom Prize. This is a Guillermo Cano prize," she said.
According to Dzhaparova, every country can submit no more than three candidates for this prize, and for Ukraine it is now very important that Sushchenko and Semena be awarded this prize.
"We do not know if they receive this award, but even the nominations of these journalists are a sign of our support for these people who are now in captivity," she said.
Ukrinform's Paris-based correspondent Roman Sushchenko was illegally detained on September 30, 2016 in Moscow, when he arrived on a private trip. On October 7, 2016, he was charged with "espionage." Russia's FSB Security Service claimed that Sushchenko is a member of the Main Intelligence Directorate of the Ukrainian Defense Ministry. The latter denied this allegation.
On June 4, 2018, the Moscow City Court sentenced Sushchenko to 12 years in a high-security penal colony. The Supreme Court of Russia upheld the verdict on September 12.
On October 8, it was reported that Sushchenko had been moved to a penal colony. On November 7, the Russian Federal Penitentiary Service (FSIN) informed Ukraine's Embassy in Moscow that Sushchenko had been transferred to Penal Colony No. 11 of the FSIN directorate for the Kirov region (the town of Kirovo-Chepetsk, the village of Utrobino).
On September 22, 2017, the Kremlin-controlled Zaliznychny District Court of Simferopol announced the verdict against Radio Free Europe/Radio Liberty (RFE/RL) contributor Mykola Semena. The journalist was given a two-and-a-half-year suspended sentence with a probationary period of three years and banned from engaging in public activities. Subsequently, the court mitigated the verdict against the journalist in respect of additional punishment – the term of the ban on engaging in public activities was reduced from three to two years.