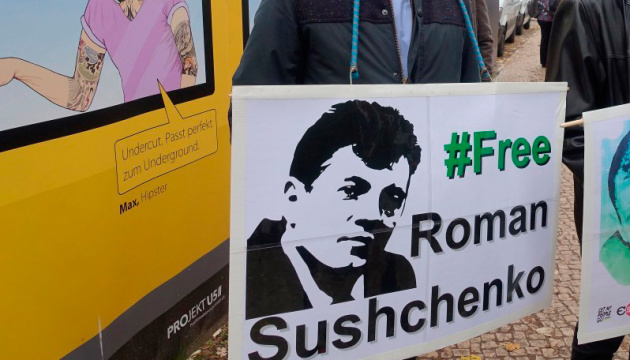 Exhibition of drawings by Sushchenko opens in Brussels
An exhibition of art works by Ukrinform's correspondent in Paris and now a political prisoner of the Kremlin, Roman Sushchenko, opened at the Press Club Brussels Europe on the evening of Tuesday, December 18.
The exhibition includes enlarged photocopies of Roman's drawings that he made in Moscow's Lefortovo Prison during 2016-2018 during the "investigation" in a case that was originally trumped up by Russian special services.
"Now you can see the pictures that Roman Sushchenko made in prison. His request for brushes and paints was rejected by the prison administration so he used a ballpoint pen, pencil and onion juice. This is a story about how people can remain human even under critical threats and psychological pressure. These drawings are the best illustration of how the human soul remains free despite any pressure, torture or humiliation," the annotation to the exhibition reads.
The exhibition was of great interest to the creative community of Brussels. The presentation of drawings by Roman Sushchenko was attended by journalists from Belgian and international media outlets, diplomats and intellectuals, members of the European Parliament, representatives of Ukrainian communities in Belgium, and others.
During the presentation, which was held by Ukrinform together with the EU-Ukraine Business Council, special emphasis was placed on the fact that Roman Sushchenko is one of more than 70 political prisoners who are in Russian captivity only because they are Ukrainians, are civic-minded and actively oppose Russian aggression against Ukraine.
As reported, Ukrinform's correspondent in France, Roman Sushchenko, was kidnapped by Russian intelligence services in Moscow in September 2016, when he arrived to visit his relatives. The family did not know anything about his fate for three days until a Russian human rights activist had accidentally met Sushchenko in jail and reported his whereabouts.
Sushchenko was charged with espionage under a trumped-up case, and on July 4, 2018, he was sentenced to 12 years in prison by a Moscow court. He did not acknowledge the charges brought against him.
The opening of an exhibition of art works by Roman Sushchenko in Brussels is one of the public events in support of him and other Ukrainian political prisoners, the main objective of which is to end the Kremlin's lawlessness and release all Ukrainian hostages.