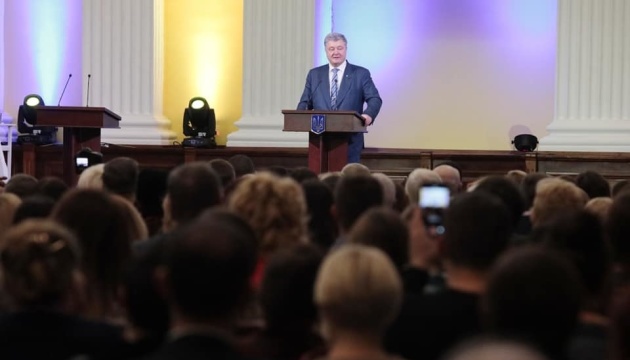 Hundreds of organizations calling for release of Sushchenko and other Kremlin's prisoners - Poroshenko
Hundreds of organizations are calling for the release of Ukrainian citizens unlawfully imprisoned in Russia, including Ukrinform journalist Roman Sushchenko and film director Oleg Sentsov.
President Petro Poroshenko stated this during a special meeting dedicated to the 100th anniversary of National News Agency Ukrinform, which was held at the Kyiv City State Administration in Kyiv on Tuesday.
"Hundreds of organizations are calling for the immediate release of Roman and other Ukrainian political prisoners, and their immediate return to their homes. And the names of Sentsov and Sushchenko have become a symbol, have become a tandem, have become a priority of demands," said Poroshenko.
The president stressed that Sushchenko is the example of a true journalist and citizen, and also assured that Ukraine will not leave him in trouble.
According to Poroshenko, due to the Ukrainian diplomats, Ukrinform journalists, Ukrainian media community, the whole civilized world is now united to defend Roman. He noted that among the defenders of Sushchenko are the European Parliament, the OSCE, the Parliamentary Assembly of the Council of Europe, the International European Federation of Journalists, and others.
He also said that during the meetings with French President Emmanuel Macron and his wife, the issue of Sushchenko's release was always raised.
"Brigitte Macron believes that this is her personal very important business. I want to assure you that not only the Ukrainian president and the first lady, not only the French president, but also the French first lady is a fighter for the liberation of Roman," the president said.
As reported, Ukrinform Paris-based correspondent Roman Sushchenko was illegally detained on September 30, 2016 in Moscow, where he arrived on a private trip.
On October 7, 2016, he was charged with "espionage." Russia's FSB claimed that Sushchenko is a member of the Main Intelligence Directorate of the Ukrainian Defense Ministry. The latter denied this allegation.
On June 4, 2018, the Moscow City Court sentenced Sushchenko to 12 years in a high-security penal colony. The Supreme Court of Russia upheld the verdict on September 12.
On November 7, Sushchenko was convoyed to a maximum security penal colony in Kirov region.
iy