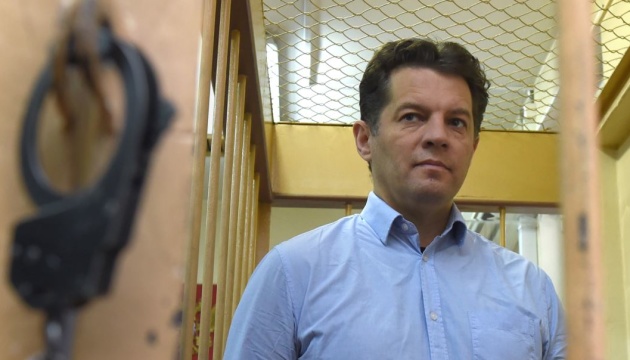 Ukraine's Justice Ministry: ECHR knows about every step of Russia in Sushchenko's case
The Justice Ministry of Ukraine follows closely the case of political prisoner, journalist Roman Sushchenko and informs the European Court of Human Rights about every step of Russia.
"We write down every Russia's step and inform the ECHR about what is happening. For example, about why he [Roman Sushchenko] stays in Moscow, where he is convoyed to, for what purpose, what conditions he stays in," Ukrainian Deputy Justice Minister - Commissioner for the European Court of Human Rights, Ivan Lishchyna said in a commentary to an Ukrinform correspondent.
According to him, as soon as the Justice Ministry receives a document on the verdict in the case of Sushchenko, it will be sent to the ECHR as an annex to the interstate lawsuit of Ukraine against Russia over 71 Ukrainian political prisoners.
Lishchyna explained that filing a relevant lawsuit to the ECHR actually meant transition to the level of legal evidence. "We have presented evidence, we say that they are not just individuals accused of various criminal offenses, they are actually political prisoners, who are persecuted for political reasons," the deputy minister noted.
As reported, on August 10, 2018, Ukraine filed a lawsuit with the European Court of Human Rights against Russia over the violation of rights of Ukrainian political prisoners. The lawsuit describes violations of rights of 71 political prisoners held by Russia.
As reported, Ukrinform Paris-based correspondent Roman Sushchenko was illegally detained on September 30, 2016 in Moscow, where he arrived on a private trip.
On October 7, 2016, he was charged with "espionage." Russia's FSB claimed that Sushchenko is a member of the Main Intelligence Directorate of the Ukrainian Defense Ministry. The latter denied this allegation.
On June 4, 2018, the Moscow City Court sentenced Sushchenko to 12 years in a high-security penal colony. The Supreme Court of Russia upheld the verdict on September 12.
ol