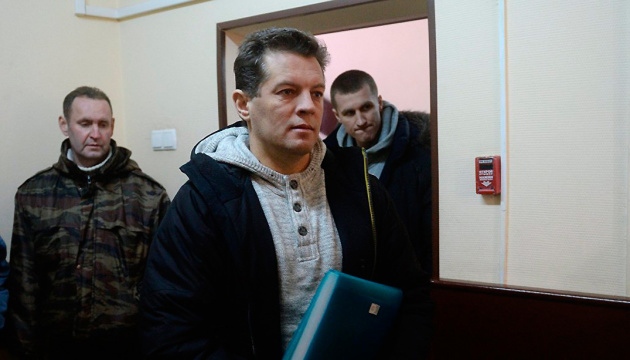 Moscow court extends Sushchenko's arrest for six months
Moscow City Court has extended the arrest of Ukrinform correspondent Roman Sushchenko on the first day of preliminary hearings in the case, the journalist's lawyer, Mark Feygin, has told an Ukrinform reporter.
"In this case, the extension of the arrest is a completely standard situation. The arrest of Roman Sushchenko has been extended for six months, starting from the day the criminal case was brought to court. Since it was received on March 16, the arrest was extended until September 16. Tomorrow, on Wednesday, of course, I will appeal this decision," Feygin said on March 27.
The media disclosed some details of the initial stage of the trial at Moscow City Court. The hearing was conducted by a panel of three judges - Fisenko, Muzichenko and Abazova. The prosecution was represented by the head of the prosecution department at the Russian Prosecutor General's Office, Antipov. The court established the identity of the defendant, as well as the fact that he had not previously been prosecuted.
Then the closed part of the hearing was held. Journalists and Ukrainian consul Hennadiy Breskalenko were asked to leave the courtroom. The latter was not given the opportunity to act as a public defender for Sushchenko.
The Sushchenko case is classified. Preliminary hearings in such cases are always held behind closed doors.
According to Feygin, the trial in the Sushchenko case may last a month. He said that such a scenario might indicate that there are agreements on Sushchenko at the highest international level. Therefore, as soon as the verdict is announced, it will be necessary to intensify the negotiation process in order to get a pardon, exchange, or another option for the release of the Ukrainian journalist, Feygin said.
As reported, Ukrinform's correspondent in France, Roman Sushchenko, was detained in violation of international rules on September 30, 2016 in Moscow, where he arrived on a private trip.
On October 7, he was charged with "espionage." Russia's FSB claimed that Sushchenko is a member of the Main Intelligence Directorate of the Ukrainian Defense Ministry. The latter denied this allegation.
op