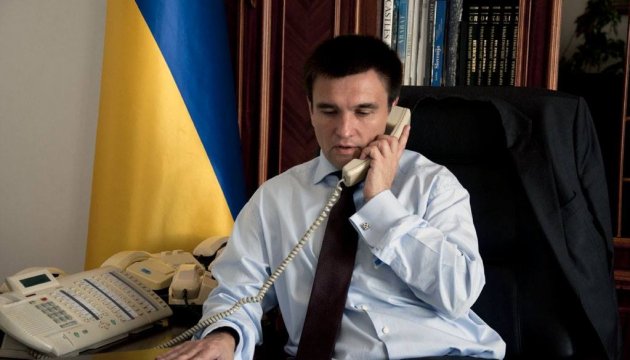 Ukraine's foreign minister congratulates Sushchenko on his birthday
Ukrainian Foreign Minister Pavlo Klimkin has congratulated Ukrinform correspondent Roman Sushchenko, who was illegally arrested in Russia, on his birthday and said how, during his recent visit to France, he spoke about him with French colleagues.
The minister said this in his video greeting.
"Happy birthday, Roman! I wish you good health, invincibility of spirit and to think today about relatives and friends. I would really like them to stay with you on this very day, and I very much hope that they will stay with you during all other days, all other real holidays. And we will do everything... to release you. We will definitely do it. A few days ago I talked about it in Paris. No matter with whom I meet it will always be very special for me, because it is about you, it is about all those who are now in Russian prisons," Klimkin said.
The Ukrainian Foreign Ministry also congratulated the journalist.
"Happy birthday, Roman! I wish you resilience! The walls will fall! We believe in your freedom and fight for it," Foreign Ministry spokeswoman Mariana Betsa wrote on Twitter.
Vasyl Kyrylych, an official representative of the Consular Service Department of the Ukrainian Foreign Ministry, also greeted the journalist by citing a few lines from a poem by Ukrainian writer Taras Shevchenko.
As reported, on February 8, representatives of the Ukrainian government, well-known musicians and journalists recorded a video sending birthday greetings to Sushchenko.
op