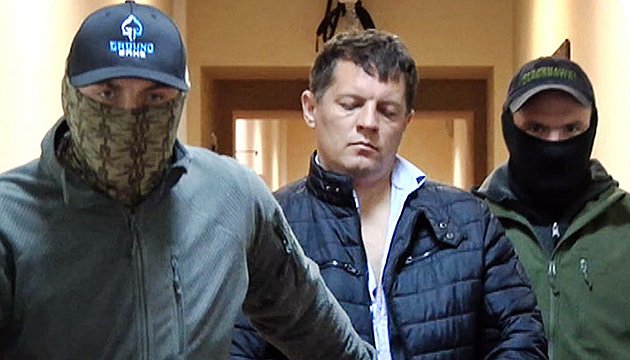 Ukrinform to hold action dedicated to anniversary of Roman Sushchenko's arrest
The staff of the Ukrinform Ukrainian national news agency will hold an action to mark the anniversary of the illegal arrest of journalist Roman Sushchenko in Moscow.
As an Ukrinform correspondent reports, the action will be held at 12:00 on Friday, September 29 near the agency's office in Kyiv.
The colleagues of Roman Sushchenko wearing T-shirts with his portrait will release air balloons symbolizing 365 days spent by the journalist behind the bars.
General Director of the Ukrinform news agency Oleksandr Kharchenko, Chairman of the National Union of Journalists of Ukraine Serhiy Tomilenko, wife and daughter of Roman Sushchenko will take part in the action.
Foreign and regional Ukrinform correspondents will take photos in libraries of different cities of Ukraine and the world holding the miniposter #FreeSushchenko to support their colleagues.
"The day of Sushchenko's arrest coincides with the all-Ukrainian Library Day. Reading books has become hardly the only tool for Sushchenko to withstand his difficult trial. For a year behind the bars, he has read a half of all the books from the Lefortovo detention center library and began to write own book about how to survive in a Russian prison," says the announcement of the action.
As reported, the photo exhibition "A Year Behind the Bars", dedicated to the anniversary of the illegal arrest of Ukrainian journalist Roman Sushchenko in Moscow, was opened at the Ukrinform Ukrainian national news agency in Kyiv yesterday.
As a reminder, Ukrinform correspondent in France Roman Sushchenko was arrested in Moscow on September 30, where he arrived on a private visit. He was accused of "espionage", allegedly being a member of the Main Intelligence Directorate of the Ukrainian Defense Ministry. The Ukrainian Main Intelligence Directorate denied allegations of the Russian Federal Security Service.
The Lefortovsky District Court of Moscow has repeatedly extended pre-trial detention term of Roman Sushchenko. On September 25, the Moscow City Court again extended the arrest of Ukrinform journalist Roman Sushchenko for another two months, until November 30, 2017.
Roman Sushchenko works with the Ukrainian National News Agency Ukrinform since 2002 and is agency's own correspondent in France since 2010.
ol