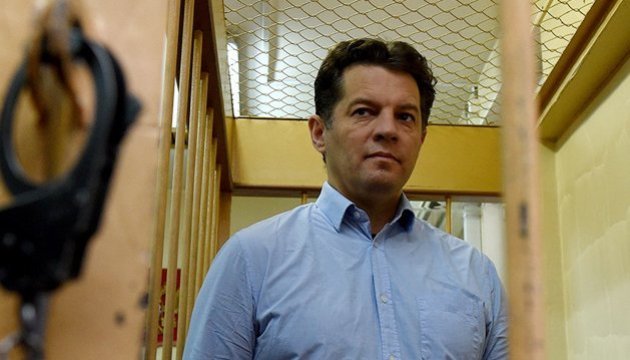 Roman Sushchenko: I have "why", and books help to withstand any "how"
What books does Sushchenko reads there, in Lefortovo, what thoughts he has after reading
Earlier, I communicated with my colleague Sushchenko only on business matters, via the Internet, when we had to discuss some common material or to differentiate "areas of responsibility" in connection with this.
But I write a lot about Ukrainian political prisoners. And Roman has now become one of them. From his relatives, from lawyer Feygin, I learned that he is a great book lover. And it's very similar to me. In a friendly way, it was interesting to me to find out whether he has books to read there, in Lefortovo, what kind of books he reads, what thoughts he has after reading.
And I hope that the answer of Ukrinform journalist Roman Sushchenko will be interesting not only to me:
"Hello, colleague!
So, the books ... When I was a child, they were not always respected and honored among children my age who were born and grew up in the USSR. The popularity of the printed word was maintained by compulsion. The dictate of the compulsory school curriculum (no matter what but pupils had to read dozens of boring books during the summer) and pedagogical "talents" strengthened antipathy. My relationship with books in those years was maintained only at the cost of efforts.
A real attachment to the book appeared due to the passion for detectives, science fiction and adventure books. These were texts of Scott, Hugo, Doyle and Co. that contributed to the success of the talented summer narrator in summer pioneer camps (immodestly, but fact). The variety of literature taste came to me in the student years. It helped me to win the heart of my beloved...
But let's go back to the prison cell. More than eight months have passed since the moment when my life changed drastically. The first week in quarantine, the brain hated the morning. It reminds that the night has the property of ending and again you have to cope with your thoughts. In that whirl of shock, horror, uncertainty, absurdity, despondency, powerlessness, despair, hatred and resentment, the book became a lifeline, due to which it could become possible to gradually get out on the surface.
"Requiem caravan PQ 17" by Valentine Pikul and "The Sicilian" by Mario Puzo were my first prison rescuers .Ten days later, I got a catalog of the local library. The list of books is decent, more than ten thousand. Editions of the classics of the forties of the last century were offered as an aperitif, modern bestsellers were for dessert. Appetite grew.
At first, I chose Nobel laureate Ivo Andric and his "The Bridge on the Drina ", Lyudmila Ulitskaya and Russian Doyle of Georgian origin, who lives in France, Grigory Chkhartishvili (Boris Akunin). By the way, the editorial staff of Ukrinform once asked me to interview Akunin. The maitre lives in Saint-Malo, four hundred kilometers to the north-west of Paris. But my attempts were unsuccessful. Unfortunately, then I knew about his literary talents only from cinematography. Now the picture looks different: there are twenty-five books by Akunin in my asset.
It's strange but Russian-language translations of Ukrainian classics are kept on dusty library shelves of Lefortovo too. In particular, "Tronka" and "The Standard Bearers " by Oles Honchar, "Stepovyky" and "Stepovi Dali" by Yuri Dold-Mikhaylik, novels and stories by Ivan Le and Mykhailo Kotsiubynsky, novels by Mykhailo Stelmakh and Pavlo Zagrebelny.
However, the first story I picked up was the story by Ivan Franko from the ten-volume of the complete edition, which my friend sent to me. Apart from the well-known from the school years "Boryslav Laughs" and "Zakhar Berkut", I was impressed by "TheTwins", "Boa Constrictor", "The Crossroads" and "For the Home Hearth ". The legacy of Kamenyar turned out to be a treasure. Franko seriously helped me, both in terms of understanding literary skills, history, and in the search for new meanings. Staying in captivity gradually acquired meaning and purpose.
The existence filled with new colors, when my friend Dmytro bought and sent more than forty world bestsellers to me in Lefortovo. I got interested in ancient legends of American Gods by Neil Gaiman, the fascinating stories by Grisham and Grangé, Renee Knight and Paul Hawkins. Stig Larsson's trilogy became a special thrill. Detectives and belles-lettres replaced the classics. The classics colored the spiritual world, while belles-lettres and detectives just distracted from gloomy thoughts. With a smile, I read eight hundred and sixty-one pages of the most popular hit among the prisoners - "Shantaram" by Gregory Roberts. And of course how could it be without Remarque, Pérez-Reverte, Marquez?
Now for a hot dish in the prison cell, I also have "To Kill a Mockingbird" by Harper Lee, "The Elegance of the Hedgehog" by Muriel Barberry, "Flowers for Algernon" by Daniel Keyes, "Fall of Giants" Ken Follett, "The Help" Kathryn Stockett. For dessert, I've chosen "The Grass is Singing" by Doris Lessing and "Chocolate" by Joanne Harris. Thus, I have more than enough spiritual food for 2-3 months.
Oleg, I have "why", and books help to withstand any "how".
Roman Sushchenko. June 19, 2017
Oleg Kudrin