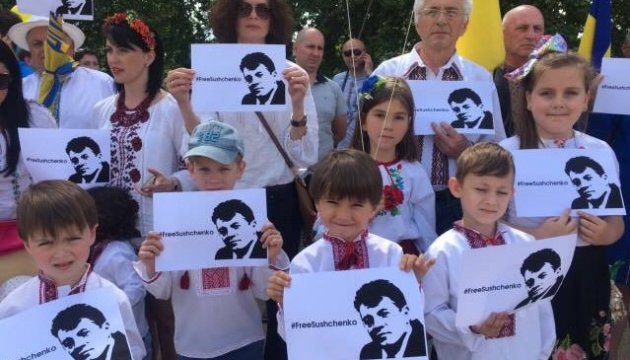 Actions in support of Roman Sushchenko taking place all over the world. Photos
In many countries of the world, in three continents, Ukrainians and friends of Ukraine are participating in the flash mob in support of Ukrinform journalist Roman Sushchenko, who was illegally arrested in Moscow.
Assistance in organizing and coordinating the action is provided by Patriots of Ukraine Worldwide Movement, own Ukrinform correspondent in Brussel reports.
"Patriots of Ukraine Worldwide Movement condemns Russia's actions against Roman Sushchenko. We all believe in victory over tyrants! We are conducting flash mobs in support of Roman in all parts of the world. Ukrainians do not leave their people!" Irena von Burg, the head of the patriotic movement said.
Over the first half of Monday, hundreds of Ukrainians and friends of Ukraine from many countries of Europe, as well as North America and Australia took part in the action in support of Roman Sushchenko.
As reported, Ukrinform correspondent in France Roman Sushchenko was arrested in Moscow on September 30, where he arrived on a private visit. He was accused of "espionage", allegedly being a member of the Main Intelligence Directorate of the Ukrainian Defense Ministry.
The Ukrainian Main Intelligence Directorate denied allegations of the Russian Federal Security Service.
On May 18, the Moscow City Court rejected the complaint against the court's decision to extend the custodial term of illegally detained Ukrinform correspondent Roman Sushchenko until June 30.
Roman Sushchenko works with the Ukrainian National News Agency Ukrinform since 2002 and is agency's own correspondent in France since 2010.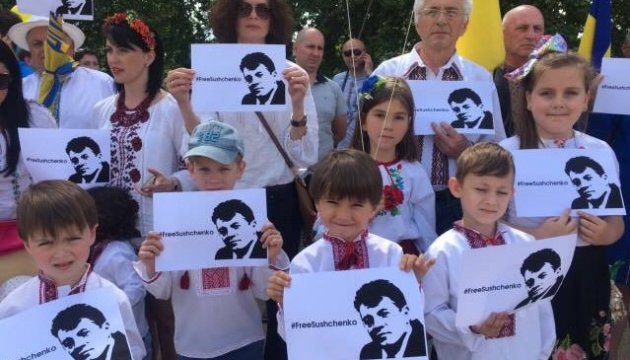 iy