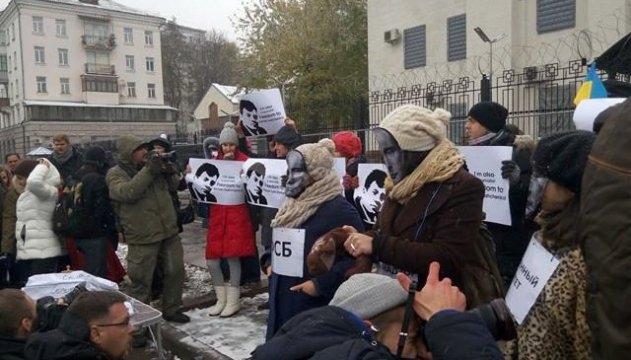 Special action in support of detained journalists held near Russian Embassy in Kyiv
The Human Rights Information Center and Centre for Civil Liberties have organized a special action in support of Ukrainian journalists Mykola Semena, Roman Sushchenko, Hanna Adnriyevska and Andriy Klymenko, against whom Russia has opened criminal cases under fabricated charges. The event has been held today near the Russian Embassy in Kyiv.
About 50 activists gathered near the embassy, among whom were representatives of human rights organizations and colleagues of Ukrinform Paris based correspondent Roman Sushchenko, who was detained in Moscow. The participants in the event showed a special performance to demonstrate how cases are fabricated in Russia against Ukrainian journalists, and in such a way they called for Russia to close criminal cases against their colleagues. The event was timed to the UN International Day to End Impunity for Crimes against Journalists.
In addition, Deputy Director General of Ukrinform National Information Agency Maryna Synhaivska during the event called on media representatives to assist in the release of Sushchenko and Semena, and to demand that Russia stop opening fabricated cases against colleagues-journalists.
"During every conference it is necessary to ask Putin: When will you release illegally detrained Ukrainian journalists?" she stressed.
iy