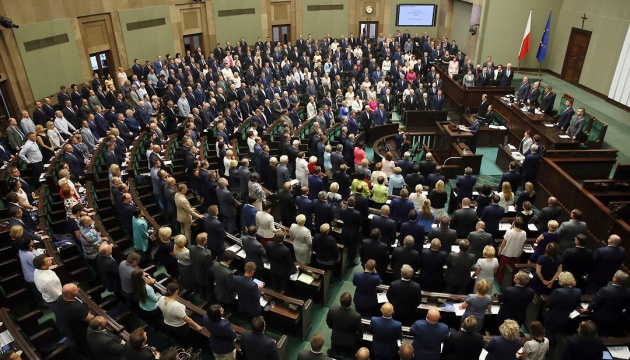 Polish Sejm adopts statement in support of journalists Sushchenko, Semena
A group of members of the Polish Sejm has adopted a statement on arbitrary persecution in Russia of Ukrinform's correspondent in France Roman Sushchenko and Radio Liberty's journalist in Crimea Mykola Semena, calling on Russian authorities to release them immediately.
The statement was signed by 15 members of the lower house of the Parliament of Poland, an Ukrinform correspondent reports from Poland.
"We voice our protest against the arrest of Roman Sushchenko, the correspondent of the Ukrainian National Information Agency "Ukrinform" in France, and Mykola Semena, the representative of the Radio Liberty's Crimean office, by the authorities of the Russian Federation" the statement says.
The statement underscores that the circumstances of the arrest indicate that the journalists are being persecuted for their professional journalistic activities. It is noted that journalists are brought unfounded criminal charges against, particularly, of alleged spying. The MPs point out that these actions indicate a "clear violation of human rights, freedom of speech and are intended to intimidate journalists."
"We call on the Russian authorities to immediately release Roman Sushchenko, Mykola Semena, as well as other citizens of Ukraine, who are held in Russian prisons and pretrial detention facilities for political reasons," the Polish legislators noted.
ol