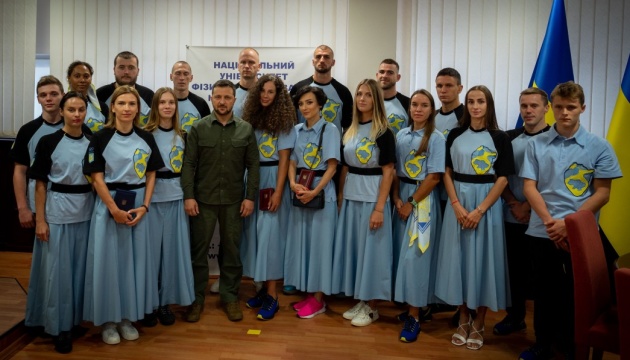 President Zelensky meets with Ukrainian athletes
On the eve of Day of Physical Culture and Sport, President of Ukraine Volodymyr Zelensky met with the winners of the 3rd European Games, where the Ukrainian national team had secured third place in the overall team rankings.
The relevant statement was made by the Office of the President of Ukraine, an Ukrinform correspondent reports.
According to Zelensky, Ukraine's great victory consists of triumphs in various spheres, including significant sporting achievements.
"Every time the Ukrainian flag is raised thanks to your victories, there is a feeling of great respect and pride. I want to thank you on behalf of all Ukrainians who have the opportunity to feel this. Because the flag is raised to the top. It means a moment of victory," Zelensky said.
In his words, Ukrainian athletes serve as an example for children who aspire to emulate them.
President Zelensky emphasized that the Ukrainian state will continue to support athletes and, despite numerous challenges, will not neglect sports.
"Sports, physical culture, physical education, your educators, coaching staff – you are Ukraine's priority," the Head of State noted.
Zelensky wished Ukrainian athletes victories on the sports fields, and the entire Ukrainian nations – victories in the war against the Russian aggressor.
The President of Ukraine presented state awards to 18 athletes who achieved high results at the 3rd European Games in Krakow.
In particular, the Order of Prince Yaroslav the Wise, 4th class, was awarded to Olha Kharlan, Olympic champion, champion of the 3rd European Fencing Games.
Zelensky also presented the Order of Prince Yaroslav the Wise, 5th class, to champion and bronze medalist of the European Shooting Games Olena Kostevych and Muaythai champion Igor Liubchenko.
Muaythai champion Oleg Primachev was awarded with the Order of Merit, 1st class.
Additionally, Zelensky presented the champions of the 3rd European Games with the Orders of Merit, 2nd and 3rd classes, and the Orders of Princess Olga, 1st and 3rd classes.
Photo: Office of the President of Ukraine