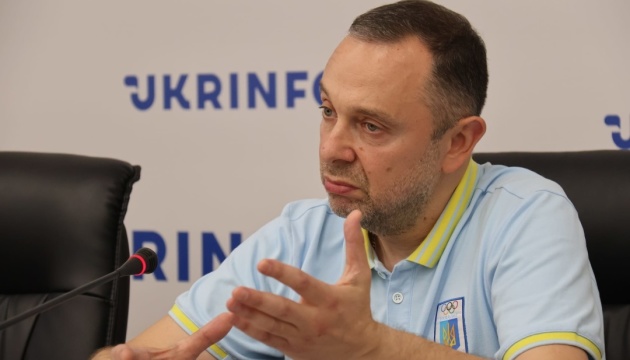 Fencer Kharlan reflects Ukraine's unwillingness to "shake hands" with enemy - sports minister
Minister of Youth and Sports of Ukraine Vadym Gutzait commented on the situation with the participation of Ukrainian athletes in international competitions.
In particular, at a briefing at Ukrinform, Vadym Gutzait spoke about the disqualification of Ukrainian Olympic fencing champion Olha Kharlan from the World Fencing Championships.
"Ukrainian athletes and coaches want to compete fairly and will not give up the fight. We are adjusting our strategy and supporting the participation of our athletes in all international sporting events where there are no representatives of the Russian Federation and Belarus flying the national flag and those who support the war against Ukraine," Gutzait emphasized.
According to him, Ukraine does not change its attitude to Russian sports, which is fully controlled by the Kremlin regime.
"We continue to fight together with our partners to ensure that every Russian or Belarusian athlete who supports the war forgets about international sports," the minister said.
Gutzait called today's disqualification of Ukrainian fencer Olga Kharlan from the World Fencing Championships a provocation.
"We have been talking to Olha all these days. She was ready to win the world championship. However, after winning the opening bout, our titled swordswoman refused to shake hands with the Russian and was disqualified. However, and this is the most important thing, Kharlan showed Ukraine's position not to shake hands with our enemies and murderers," Gutzait emphasized.
As reported, saber fencer Olga Kharlan defeated Russian Anna Smirnova (15:7) at the start of the World Fencing Championships in Milan (Italy). After the fight, the representative of Ukraine refused to shake hands with the Russian, who in turn lodged a protest due to the lack of "respect" on the part of the Ukrainian. For this, the International Fencing Federation (FIE) disqualified Kharlan from the World Championships.
The president of the FIE is Russian businessman Alisher Usmanov.