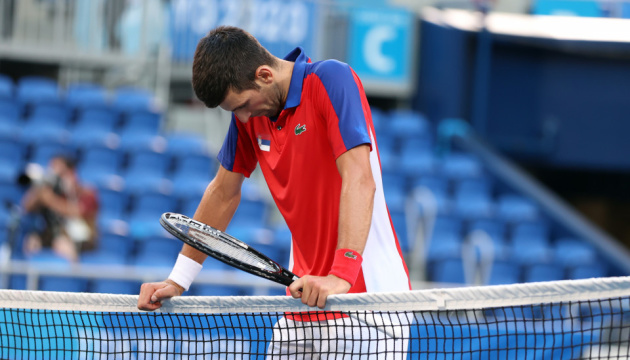 Greatness and shame, or Novak Djokovic's anti-Ukrainian position
This year's Australian Open winner has repeatedly been involved in high-profile scandals related to the Ukrainian-Russian war.
At the beginning of Russia's full-scale invasion of Ukraine, Novak Djokovic offered financial assistance to Sergiy Stakhovsky. Less than six months have passed and the former world No. 1 supports the participation of athletes from the terrorist country in international competitions. Why does Djokovic not support Ukraine and what is his anti-Ukrainian position?
How it all began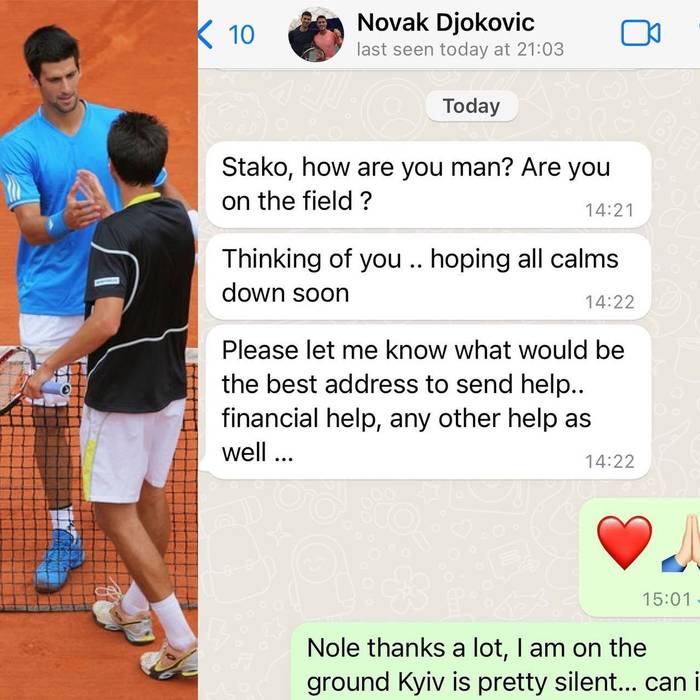 On March 6, 2022, a Ukrainian tennis star and now a serviceman, Sergiy Stakhovsky, publishes a fragment of his correspondence with Novak Djokovic. The Serb asks how Stakhovsky is doing... In addition, he expresses hope that all [the war] will calm down soon. Finally, Djokovic offers financial assistance to Ukraine and Stakhovsky.
"Russians and Belarusians deserve to compete"
June of the same year. Wimbledon becomes the first international tennis tournament that banned Russians and Belarusians from participating in individual competitions. This initiative was absolutely not supported by international tennis organizations – the ATP, WTA and ITF. In response, they decided not to award ranking points to tennis players for their performance at Wimbledon.
Surprisingly, in addition to international organizations, Russian and Belarusian athletes were supported by Novak Djokovic. The Serb did not just speak out in defense of athletes from Russia and Belarus. Without exaggeration, he wanted them to perform at Wimbledon.
"I think that they [Russians and Belarusians] would accept the compromise that they had in the situation or circumstances with the Olympic Games to play under a neutral flag. I think they deserve to compete. They are professional athletes. None of them has supported any war or anything like that. […] If someone would ban me from playing because of similar circumstances and I have not contributed to that, I wouldn't think that's fair," Djokovic said at a press conference before the Wimbledon.
This was not the end of Djokovic's disgrace. The Serb offered Ukrainians, Russians and Belarusians to perform together at Wimbledon in doubles.
"I am glad that players got together and showed to the grand slam that when there is a mistake happening – and there was from the Wimbledon side - we have to show there will be some consequences. Representatives of Belarus, Russia, and Ukraine could play in exhibition matches or mixed matches, and the prize money would be sent to victims in Ukraine. There were options, but no one considered them. I think there will be certain players who will be negative about everything. They will complain more than others. This is a difficult situation because it is difficult to say what is right and what is wrong. This is one of these kinds of decisions where there will always be someone who will suffer more. It is a lose-lose situation," Djokovic said.
New year - new scandals
Djokovic's new scandal, which gave another reason to think about who the Serb really supports, took place at the Australian Open. However, not only Novak was now at the epicenter of the scandal, but also his father, Srdjan Djokovic.
Srdjan was not shy about posing in a video with fans who brought Russian flags to the Australian Open. One of the fans in the video is holding a Russian flag with a portrait of Putin. The man himself is wearing a T-shirt with the Z symbol and the inscription "Where we are, there is Russia."
The reaction from Ukraine was immediate. Ukraine's Ambassador to Australia, Vasyl Miroshnychenko, called for Djokovic's father to be banned from attending the tournament in Melbourne. At the same time, Australian Prime Minister Anthony Albanese confirmed that Australia supports Ukraine. Srdjan Djokovic, in turn, said that he would watch his son's final match at home.
The winner of the Australian Open also reacted to this scandal and said that his father was inadvertently involved in "controversies" about the war with Russia.
"My father, my whole family, and myself, have been through several wars during the 90s. As my father put in a statement, we are against the war, we never will support any violence or any war. We know how devastating that is for the family, for people in any country that is going through the war. The photo that he made, he was passing through. I heard what he said in the video. He said, 'Cheers'. Unfortunately, some of the media has interpreted that in a really wrong way. I'm sorry it escalated so much. I hope people understand that there was absolutely no intention whatsoever to support any kind of war initiatives," the athlete said.
Djokovic did become the Australian Open champion and won his 22nd Grand Slam title. Of course, not a single word in support of Ukraine came out of his mouth, and we all understand why. There are no questions for Novak as a tennis player, because he is one of the best. In contrast, as a personality, he proves that even a professional in his field can look shameful.
Photo credit: facebook.com, Getty Images
Diana Kondratiuk, Kyiv