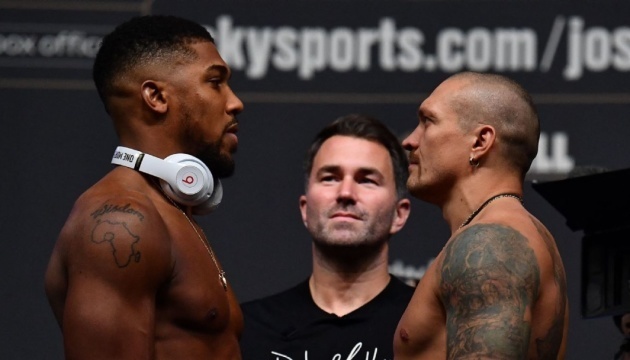 Joshua: When I beat Usyk, I'll get credit I deserve
The two-time world heavyweight champion, Anthony Joshua, shared his thoughts on the upcoming rematch with Ukrainian Oleksandr Usyk, the holder of four titles.
The Briton believes that he will become a world champion again, Ukrinform reports, citing ESPN.
"I feel when I go and beat Usyk, I'll get the credit I deserve again. And I'll get the admiration for being a true boxing legend. [...] I fought for the heavyweight championship in my 16th fight; I felt like it's kind of overlooked. This is my 12th title fight in a row. I just feel like sometimes even though we're selling out arenas and it's good to be popular, I don't really care for that stuff. I'd just want the respect in the division. This is definitely possible," Joshua said.
He also added: "I definitely feel my training approach changes because I knew where I wasn't good enough, you know, areas where I was exposed. […] And look, I've got a ... third chance to become heavyweight champion of the world. ... I'm not just gonna go in there thinking it's gonna be easy. I will address the weaknesses and then I'll make sure I get it right and become champion again."
A rematch between Usyk and Joshua will take place on August 20 in Jeddah, Saudi Arabia.
Last autumn, Usyk beat Joshua by a unanimous points decision to become the new WBA, WBO, IBF and IBO heavyweight champion.
Photo: espn.ph